Search Lake Norman Waterfront Homes For Sale
Search Waterfront Homes For Sale By Category:
Search The Waterfront By Area
LAKE NORMAN MAP | CLICK TO NAVIGATE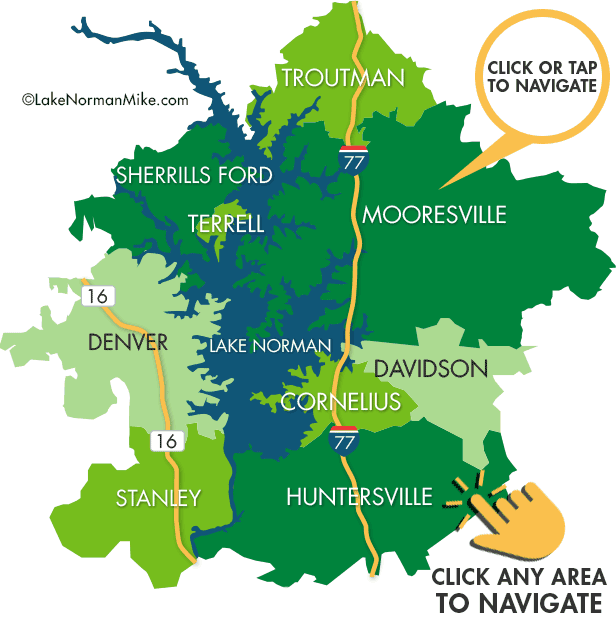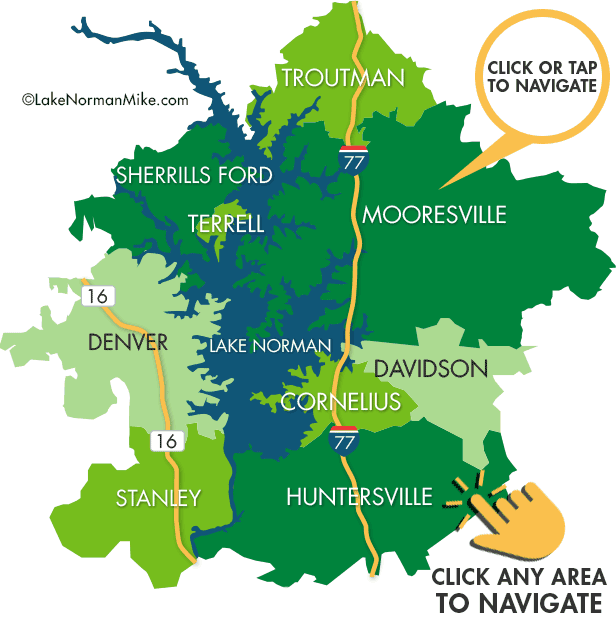 Ready to schedule a tour of some lake homes?
Call/Text Waterfront Specialist, Mike Toste at 704-584-9781
Lake Norman Mike has been in the business of waterfront real estate for over 30 years. We offer our clients free education through our Homeowner's Academy. Our team has the experience to help you sell your home. If you are buying or selling on Lake Norman, our team's expertise can help you immensely in that process. Lakefront North Carolina real estate is our passion and Lake Norman is our home. From the beautiful water, to the exciting sport and leisure activities, cultural and community events, and proximity to Uptown Charlotte – Lake Norman has it all. Not to mention it's just a couple hours to pretty much everything else North Carolina has to offer!
Browse our website to search homes for sale, check out our Solds page to see recently sold homes in the area (specifically waterfront homes), and check out our blog to learn everything about Lake Norman. From articles on home buying to area attractions like the Lake Norman State Park and National Whitewater center – we explore Lake Norman with you.
Home buyers are looking for a Lake Norman real estate agent who will guide them through the home buying process and help them make smart decisions. Homeowners interested in selling are looking for someone to get them top dollar and bring a certain level of professionalism to the table. Lake Norman Mike has the experience, knowledge, and resources to help you buy or sell your home with the utmost professionalism and client care.
See Our Lake Norman Waterfront SOLDs Report
View Lake Norman NC Waterfront Homes by Price Range
Newest Lake Norman Waterfront Property Listings
What's not to love about living on Lake Norman? Lake Norman is the largest manmade lake in North Carolina. It's 34 miles long from top to bottom, providing over 520 miles of shoreline for your own waterfront playground.
You get to enjoy a plethora of activities to choose from including sailing, boating, skiing, wakeboarding, fishing, paddle boarding and kayaking, just to name a few.
POPULAR WATERFRONT NEIGHBORHOODS
Browse available waterfront homes for sale
Lake Norman Waterfront Guide (Continued)
Lake Norman is "Nascar Country" and just 20 miles north of Charlotte, the largest city in North Carolina. It's a thriving city filled with entertainment, great dining, shopping in all directions, and the best lot of sports teams in the southeast! The weather around Lake Norman is great! You'll finally get to enjoy all four seasons without having to shovel any snow! The climate is mild and the fall colors and sunsets throughout the year on the water are beyond amazing!
The biggest challenge for those living on the water is deciding what activity to choose!
Erin and I love heading out on sunset cruises across the lake and the whole experience of enjoying waterfront dining at one of many restaurants on Lake Norman. A few of our favorites are the Blue Parrot, Rusty Rudder (which has now been closed to be reopened under a new name "Hello, Sailor"), Harbor Club and The Landing. Yes, they all have boat slips for easy access to and from.
Life on Lake Norman offers very different lifestyles, depending on which side of the lake you choose to make your permanent or seasonal home. Things you do off the water, and access to them, may influence your decision. There are various waterfront subdivisions and neighborhoods offering country club, golf, and tennis memberships, gated access, green areas and parks, community boat slips, boat storage, pools, and a variety of other benefits.
Crescent communities has developed a few very popular waterfront communities such as The Peninsula in Cornelius with a full 18 hole golf course, and Yacht Club, The Point in Mooresville, home of Trump National Golf Club, SailView in Denver a friendly community with Pool & Tennis Courts overlooking Lake Norman, and NorthView Harbour in Sherrills Ford, also with a pool and tennis court . (Click the respective links to learn more).
The two sides of Lake Norman
TO THE WEST – "THE QUIET SIDE"
There is what locals refer to as the quiet side of the Lake where things tend to move a bit slower and neighborhoods are a bit more spread out. You won't have a movie theater and your chain coffee shops around the corner, but you will have less traffic to deal with and more open spaces in the panorama. These communities include those on the west and northern side of Lake Norman: Denver, Sherrills Ford/Terrell, Troutman, and Stanley. Charlotte commutes from these areas will be via Highway 16 (called by locals as New 16) and commuting times vary by location. Traffic from the west side of the lake tends to be much quicker than its eastern counterpart. See the map at the top of this page to see layout of towns.
TO THE EAST – MORE ACTION!
If you desire multiple restaurant choices and abundant shopping, then the Cornelius, Huntersville, Mooresville or Davidson might be a better choice! You'll also have access to walkable historic downtowns and all the charm they offer. Charlotte commutes for these areas are by way of Highway 77 which can get fairly backed up at times. Currently there is a toll lane being constructed in this area which will make a lane available to those who wish to bypass the traffic for a fee. These towns are more lively, with more tightly designed neighborhoods, more businesses, more activities, and events. And since many waterfront homes face the west, you'll see more sunsets too.
From either side of Lake Norman, a quick trip to the famous Birkdale Village in Huntersville has numerous choices for dining out and your shopping needs will be satisfied with both boutique shops and many of the larger chain stores. Erin and I do love Dressler's for dining and will often enjoy a glass of wine at our favorite watering hole, The Corkscrew!
Read our Lake Norman real estate guide for even more information about the region.