If you're ready for some amazing drone video of Lake Norman and want to witness some stunning aerial views, then fasten your seatbelts and join me on this captivating tour! Today, we are delivering a Lake Norman Aerial Waterfront Tour, unveiling the 34-mile stretch from the Lookout Shoals Dam, way up on the Northern part of Lake Norman, all the way to the Catawba Dam, at the very southern tip of Lake Norman. We will be also flying over a few of the premier luxury waterfront communities on lake Norman, including The Point in Mooresville and The Peninsula in Cornelius. We'll briefly touch on some of Lake Norman's history, a few of Lake Norman's waterfront restaurants and a whole lot more.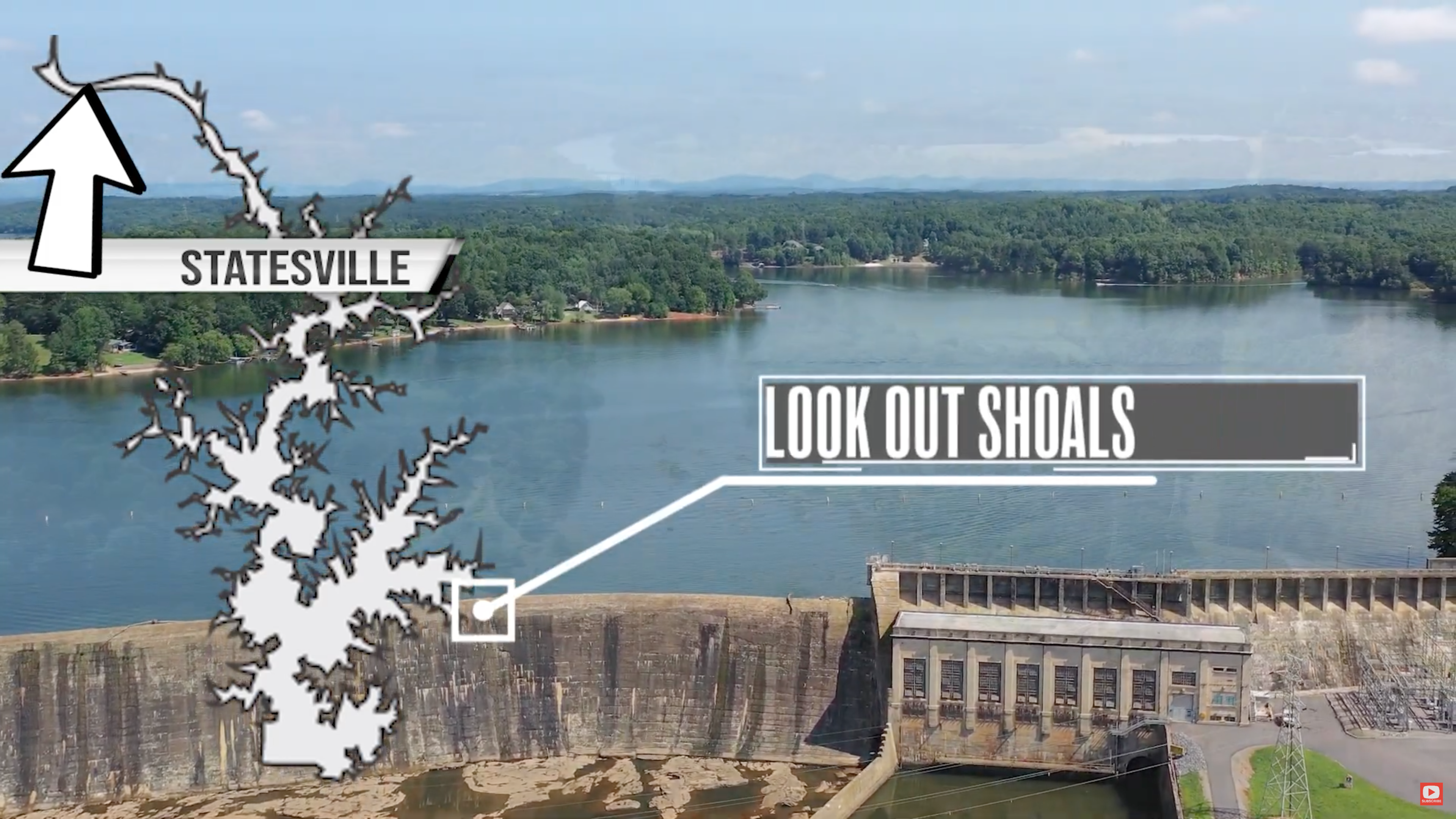 Our Tour Begins in Statesville, North Carolina
The Lookout Shoals Dam
Our Lake Norman Aerial Waterfront Tour begins as we fly over the Lookout Shoals Dam, which, along with the Catawba Dam on the south side, is holding back the massive body of water we refer to as Lake Norman. But, what you may not know is that beneath the tranquil surface of Lake Norman lies the remains of a lost civilization, with small villages where generations of families once called home.
The History Before Lake Norman
I can assure you history is not my thing, but I can provide you a quick take on life below the waters. The East Monbo and Long Island cotton farms were the backbone of this small community, but they were shut down in the early 1950s to make way for the construction of the dam which occurred in the early 1960s. It's difficult to imagine that, beneath us, small villages once existed where families gathered and children played…despite the current recreational paradise we are flying over.
Lake Norman's Buffalo Bridge
As we move south and fly over the Buffalo Shoals Bridge, you'll spot the northernmost restaurant on the lake, the Waterside Bar and Grill. But, don't expect too much activity up here – it's fairly spread out and far less built-up than the southern tip of the lake.
Long Island Public Boat Access
If you're looking for a quiet place to launch your boat, the Long Island Public Boat Access is the furthest northern public boat ramp, where you can enjoy the Lookout Shoals area without taking a boat ride this far north ~ although it does make for a fun trip. Here, you will see a lot of fishermen, giving it a totally different vibe compared to the hustle and bustle of the main channel, which we'll explore shortly.
Live in Harbor Watch
Directly across from Long Island Boat launch is Harbor Watch, one of the gated communities located in the town of Statesville on Lake Norman. While most lots in this community have a steeper grade to the lake, they offer some of the most amazing views of Lake Norman.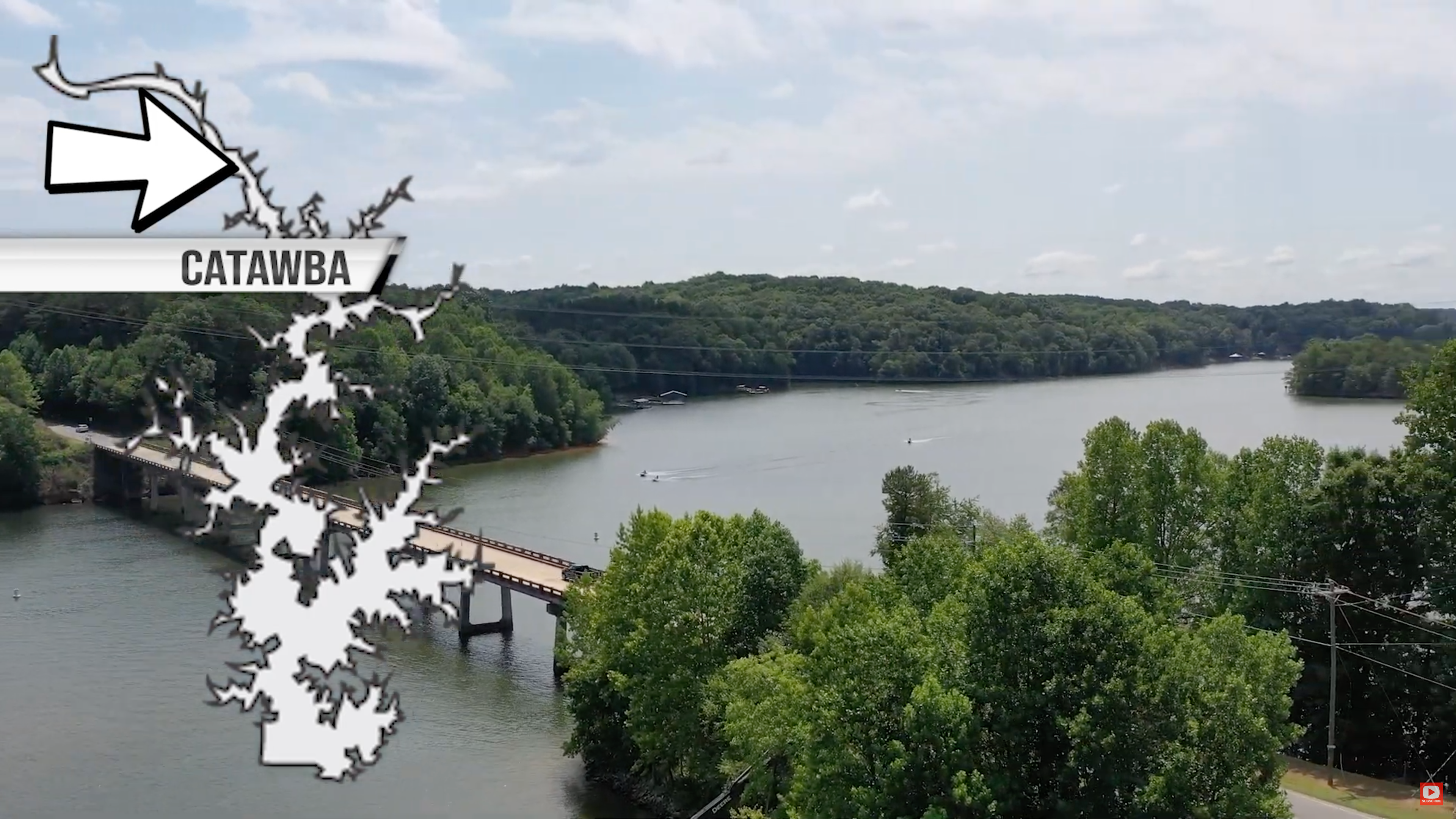 Next Stop: Catawba, North Carolina
Live in Astoria Parkway
Located in the town of Catawba, just down from Harbor Watch on the right side of Lake Norman, is Astoria Parkway, another breathtaking gated community. Although many of the lots offer stunning views of the lake, they can be steep, similar to those found in the Harbor Watch neighborhood. In addition, deeded boat slips are available for those without direct waterfront access. If you're looking for a private, gated community away from the action, this beautiful area might be just what you're looking for.
The Long Island Airstrip
Continuing south on the same side of Lake Norman is the Long Island Airstrip, a perfect community for aviation enthusiasts who want to enjoy a panoramic view of Lake Norman during takeoff and landing. Despite its small size, it offers unique features, such as a grass-lit runway and individual hangars for residents to store their planes. Additionally, the community provides a boat ramp and deeded boat slips for its residents.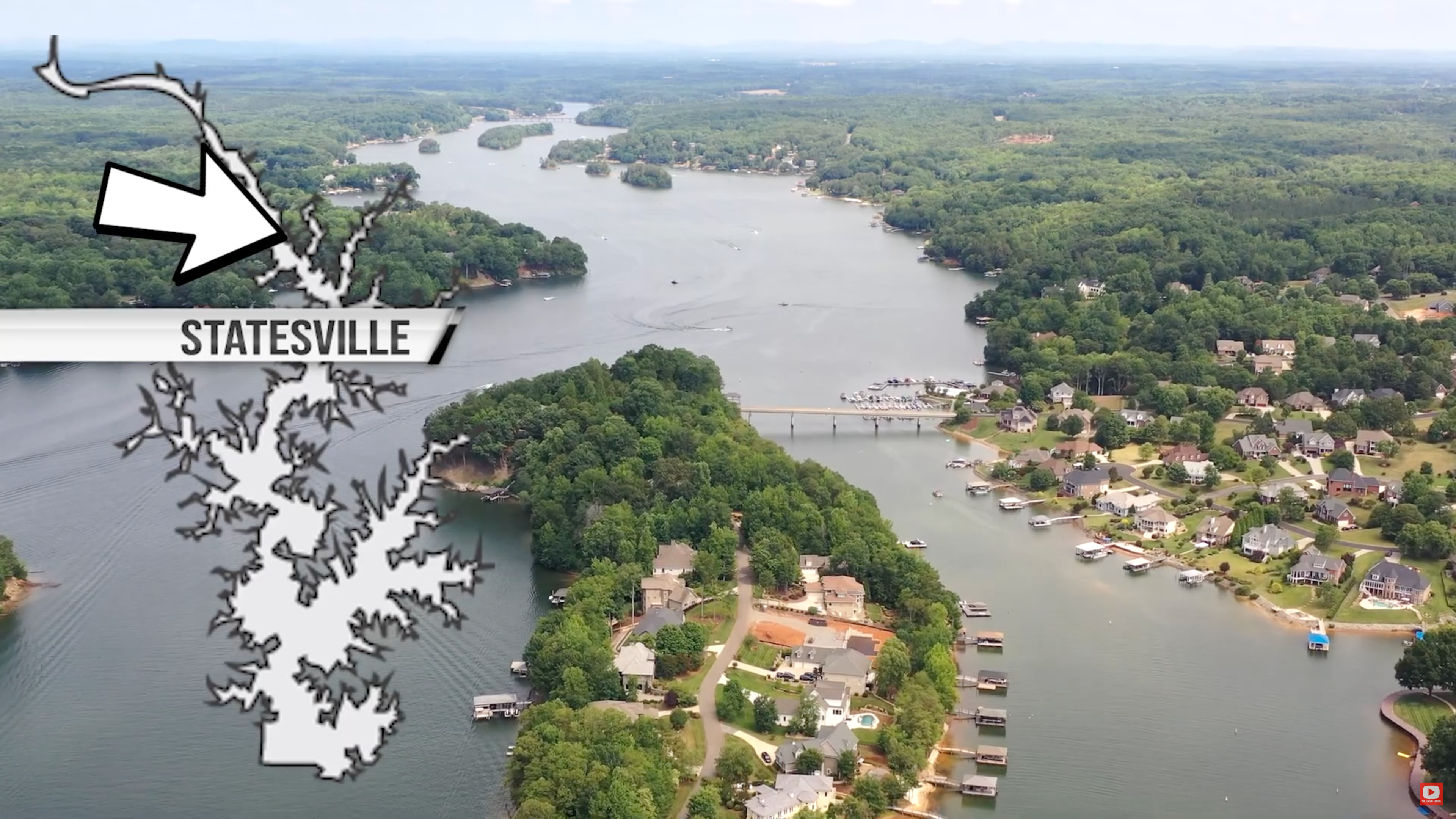 See Statesville, North Carolina
Live in Windermere Island
To the left of the airport, directly across the lake, sits a breathtaking neighborhood on a secluded peninsula, accessible via the Windemere Isle road bridge. Windermere Island is a gated community located in the town of Statesville, offering a small cluster of custom-built homes.
It's important to note that Astoria, Harbor Watch, and Windermere neighborhoods do have some steeper lots, and getting to shopping and dining may require a bit of a drive. One home on Windermere even uses a cable car to access their dock on the lake. If you prefer a slower pace and private lifestyle, any of these communities we just flew over might be perfect for you.
The Lake Norman State Park and Campground
As we fly a bit further, off to the left you will arrive at a place Erin and I enjoy taking long walks with our dog, Dana. It is the Lake Norman State Park and Campground. This beautiful park covers over 17 miles of Lake Norman's shoreline, with 38 miles of biking trails, 31 miles of hiking trails, a boat ramp, and seasonal boat rentals, making it an excellent spot for a day out with the family. There are also plenty of picnic tables for day use, and the kayaking and paddleboarding are amazing due to the lower boating traffic. When visiting here, you will likely spot numerous blue herons as they nest in this part of the lake.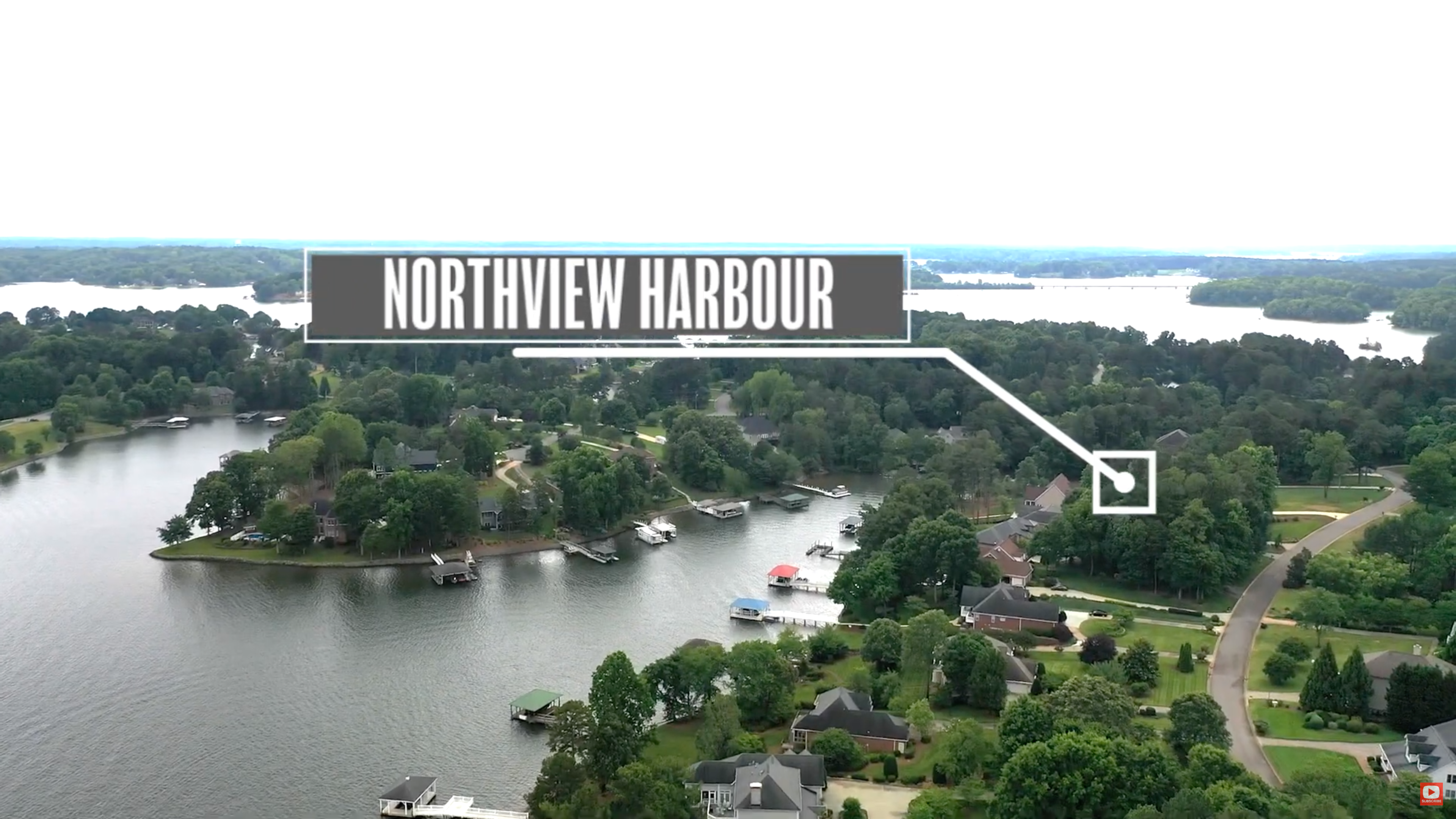 Flying Over Sherrill's Ford, North Carolina
Live in Northview Harbour
Continuing our journey further south on the lake, we have arrived at one of my favorite communities, Northview Harbour, located in Sherrills Ford. Some of our closest friends live in this community, and we always enjoy our time spent here. Northview Harbour offers both waterfront and off-water properties, with many of them situated on the main channel. For those who do not live directly on the lake, deeded boat slips are available. This planned community boasts a clubhouse, swimming pool, tennis courts, and walking trails, making it a perfect place for families.
Life in Sherrill's Ford, NC
While Northview Harbour is located a bit further north on Lake Norman, the rapid residential and commercial growth in Sherrills Ford means that you're only a 7-10 minute drive from shopping and dining options. Additionally, living here has the added advantage of being just a short boat ride away from some of the most popular waterfront restaurants on Lake Norman. In fact, it's quicker to reach these restaurants by boat than by car.
Long Island Road
As we cruise toward the popular waterfront dining options on Lake Norman, keep your eyes peeled for Long Island Road on your right. It's the peninsula I mentioned earlier that requires a quick boat ride around from the Northview Harbour neighborhood. Trust me, it's worth the effort to get here – the homes on the water are downright stunning.
Dining and Entertainment on Lake Norman
Now, if you're feeling hungry or thirsty, you're in luck! We've arrived at a spot that's buzzing with activity for us lake dwellers. Just before the 150 bridge, which splits the east and west sides of Lake Norman, you'll find some excellent options for food and drinks. The Blue Parrot, Toucans Lakefront, and one of our personal favorites, Apps and Taps, are all great choices. Indulge in some tasty wings and a cold brew before you hit the waves again. But fair warning, during boating season, these places can get packed, especially in the early afternoon. Don't be surprised if you have to wait for a slip to open up. The good news is, there's no better place to chill with your buddies and catch some rays while you wait.
Now, I'm not going to cover this in detail in this video, but I will soon. Lake Norman is well patrolled by multiple law enforcement agencies, and you need to make sure you're covered in case you get an on-water inspection… Subscribe to my YouTube channel to be notified that video premiers!
Queens Landing
Just around the corner on the same side of the lake as your waterfront dining options is Queens Landing. Here you can take sightseeing tours and dinner cruises or enjoy Sunday brunch on Lake Norman in style on "Lady of the Lake", a 93 foot yacht. They also do private events as well.
As we continue to enjoy the amazing scenery off to the right will be another narrow peninsula with water on either side off of Kiser Island Road.  This is where one of the most unique homes on Lake Norman can be found at the end of the peninsula.  Yes, it's all glass and has a view of the lake from every room in the house… And yes, I do mean every room….I know what you're thinking, did he say every room?….Yes I did, including those rooms too!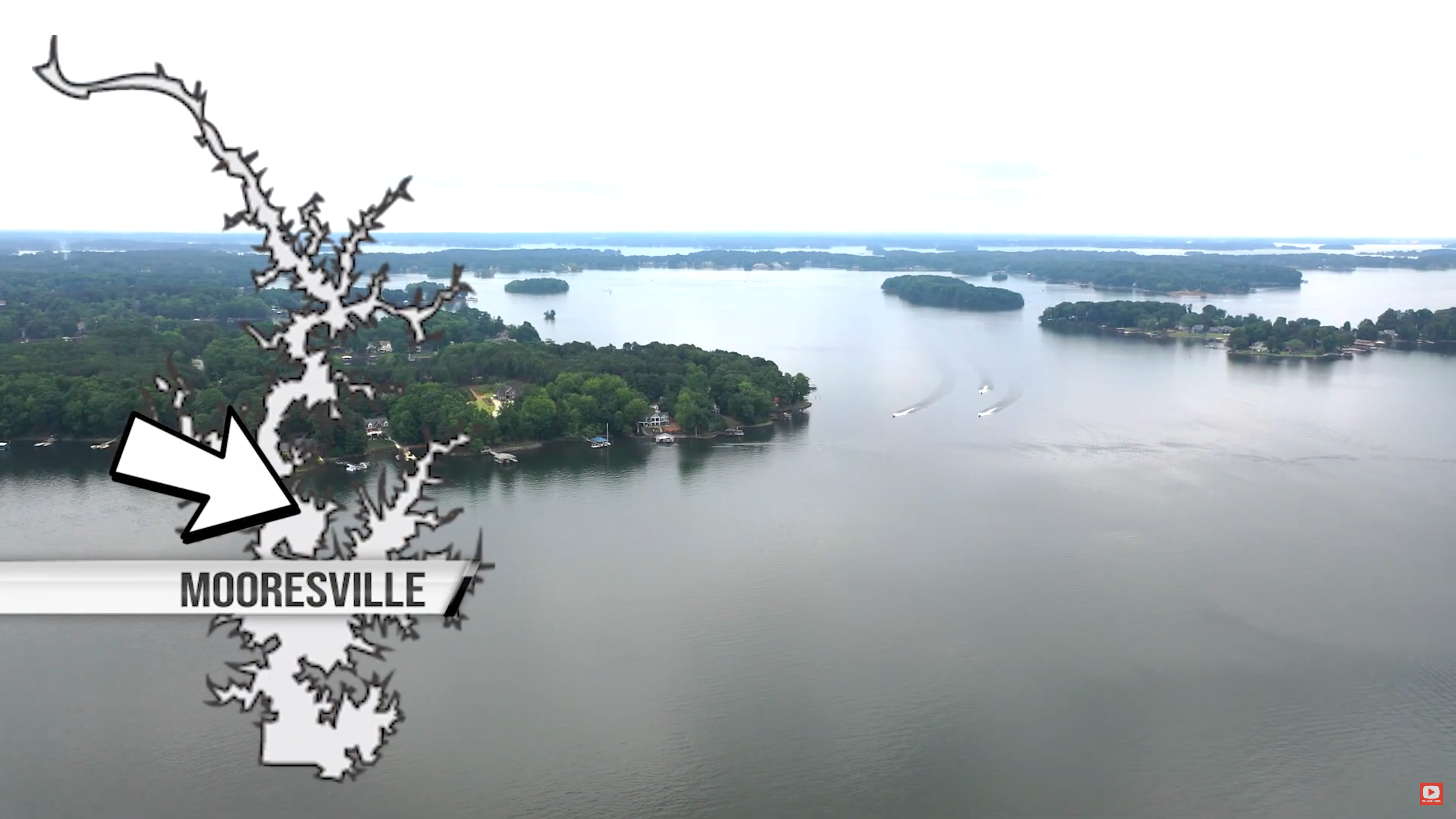 Mooresville, North Carolina
Directly across the lake from here on the left hand side you will find another amazing peninsula off of Barber Loop and Chuckwood Road in the town of Mooresville.  Another stunning peninsula that dead ends into the lake surrounded by two sides of Lake Norman waterfront.
The Point in Mooresville, the Trump International Golf Club on Lake Norman
Hold up, hold up! Did I just say "peninsula"? Scratch that. Let's fly over here to one of the most incredible communities on Lake Norman. Any guesses? It's none other than the Trump International Golf Club, also known as The Point, in Mooresville! This place sits on 18 miles of prime Lake Norman shoreline. If you're looking for a luxurious country club lifestyle, surrounded by long range views of Lake Norman and an 18-hole private golf course, this is it!
Check this out, now we're flying up to the country club and what locals refer to as Cocktail Cove. A favorite summer spot where many hang out and float while enjoying their favorite boating beverage. You can also enjoy swimming, fitness, dining at the club, the Trump Bakery, and the Village Spa. We have several past clients who call this community their home. It is simply amazing!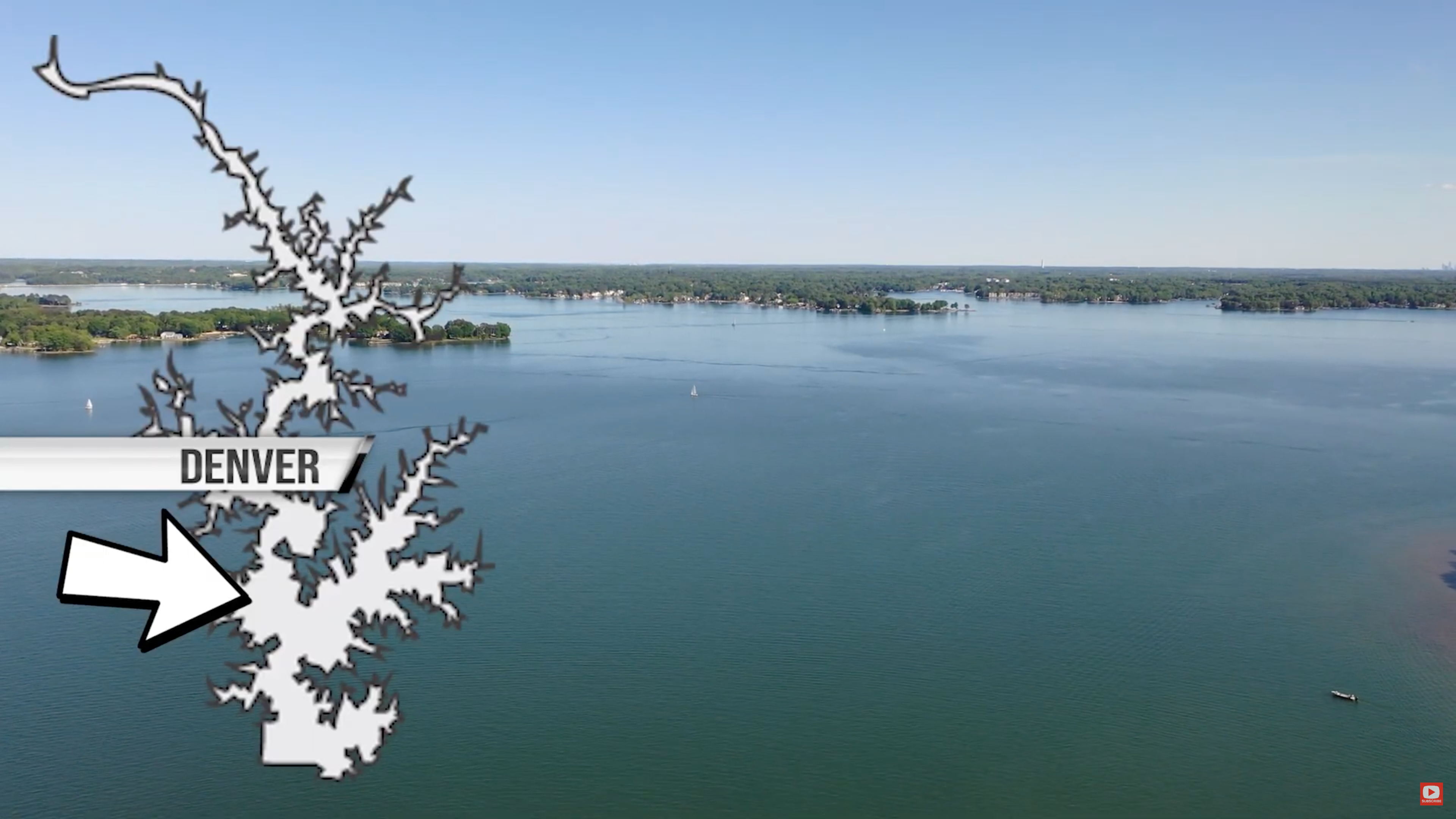 Denver, North Carolina
Live in Sailview
Time to re- fasten your seatbelts as we have a bit of distance to fly as we make our way to Denver.  Ok, just kidding – not that Denver! I'm talking about Denver, North Carolina, just a short boat ride across the lake from The Point.  Here we arrive at Sailview, a popular community for those looking at the west side of Lake Norman.  If you're looking for a slower pace of life and having things a bit more spread out Denver might be an option.  Here, you can grab off-water properties with boat slips or luxurious waterfront homes with their own dock. And let's not forget about the amenities: trails, beach volleyball, tennis, and a community clubhouse and pool.
Live in Governor's Island
Now, let's keep flying south on the same side of the lake and check out Governor's Island. It's a gated community where only about 40 lucky folks get to call home. They've got stunning views of the cove on one side and the main channel on the other, looking back toward Mooresville.
Just across the cove from Governors Island is Lakeshore Road, a cool spot to check out. The homes here have a unique, eclectic feel, with funky designs and eye-catching styles. Whether you're a fan of modern architecture or more traditional designs, you're sure to find something that catches your eye on Lakeshore Road. What really sets this street apart is the stunning display of colorful blooms that can be seen in the spring months. Rhododendrons and azaleas in particular, are a true showstopper, with vibrant pink and purple flowers that light up this long curvy street that encompasses many different coves along the Westport neighborhood here in Denver, NC.
Outdoor Fun at Beatty's Ford Park
Let's fly a little further south towards the dam, and we'll find ourselves at Beatty's Ford Park. Here you have a large public boat launch with plenty of parking and off to the right side is the park where you can picnic, play with the kids, go for a jog, and soak up some of those incredible views of Lake Norman.
Live in Norman Estates
Right next door, we've got Norman Estates. This gated community is a small cluster of luxury homes on larger lots, with some seriously impressive lakefront real estate. And they even have RV storage within the community. It's all luxury, all the time in this neighborhood with some of the most prime real estate on the west side of Lake Norman.
Fishing on Lake Norman
Wait a minute – what about fishing out here on Lake Norman? With this size body of water is it safe to assume there might be some good size fish? Lake Norman has its fair share of small and largemouth bass, plenty of crappy, perch, bluegill and a few small blue catfish as well. Ok, NOT SO SMALL!! Try this one on for size:
While fishing on Lake Norman on June 19th, Joel Lineberger landed a massive blue catfish that tipped the scales at 85 pounds. The remarkable feat, however, was not only due to the fish's sheer size. Lineberger's catch also measured a remarkable 51.25 inches in length and 35.5 inches in girth, setting a new record for blue catfish in North Carolina. So, yes… we have decent fishing too!
The Sandbar in Lake Norman
Ok, we have a bit more flying to do as we cross back over Lake Norman heading east. And look down there, that's the famous sandbar! It's one of the hot spots for boaters to stop and have a picnic or let their furry friends take a dip. And on the fourth of July, it's the place to be with over a hundred boats anchored and partying! Just make sure to keep those non-alcoholic beverages handy… or maybe not!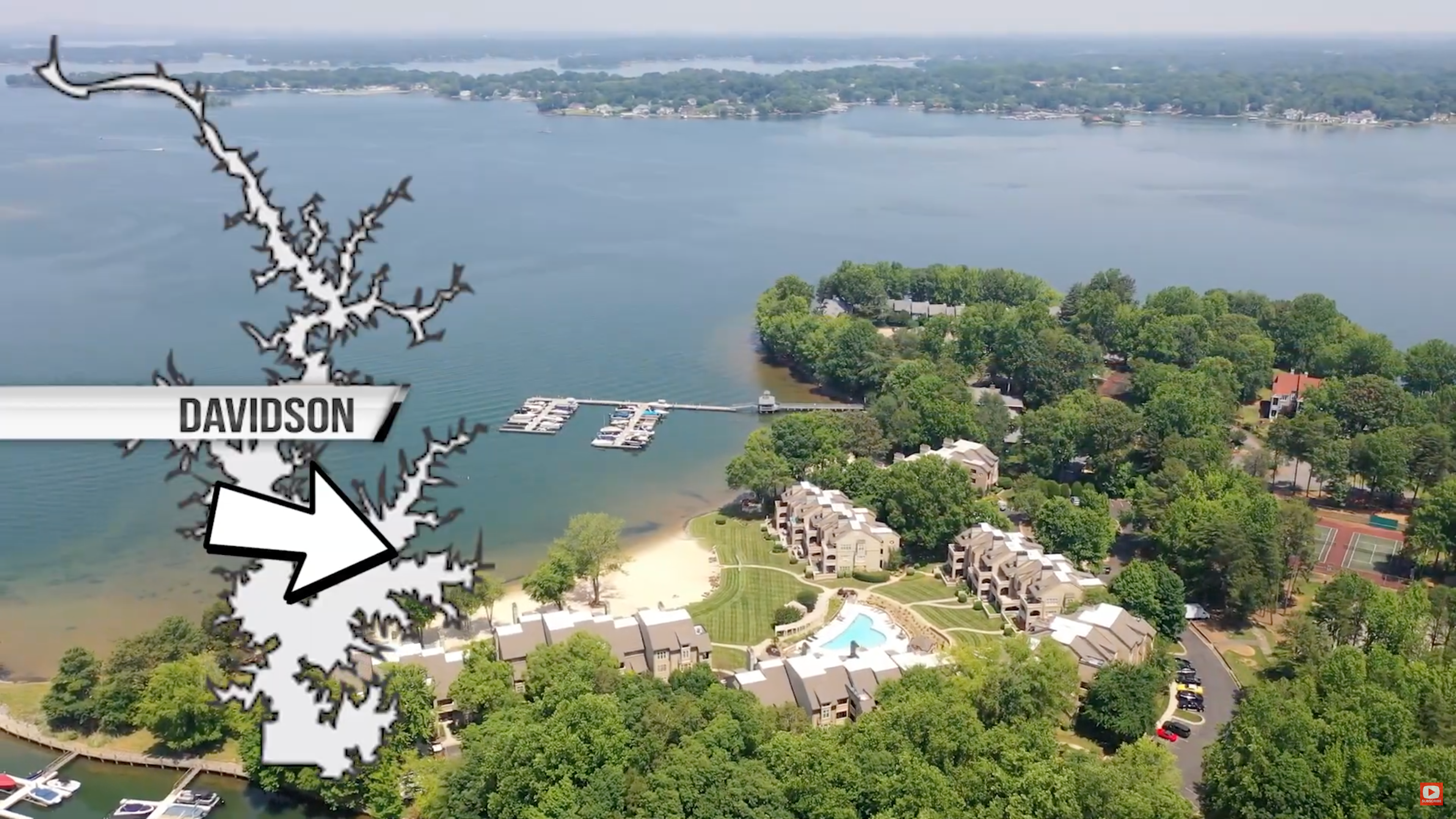 Davidson, North Carolina
Live in Davidson Landing
As we put Sandbar behind us we continue our journey to a place you might consider if you are interested in Lake Norman waterfront condo living.  This is Davidson Landing in the town of Davidson, NC.  
Davidson Landing is a picturesque waterfront community, offering its residents the perfect blend of a serene environment and an active lakeside lifestyle. Residents can enjoy a range of amenities, including boat slips, pools, waterfront boardwalks and gazebos, tennis and volleyball courts, a basketball court, walking trails, and many enjoy some of the most breathtaking sunset views.
The community of Davidson Landing is comprised of twelve distinct complexes, each offering its own unique character and charm. And to top it off, every complex has its own exclusive pool, providing residents with a private oasis to relax and unwind.
The Lake Norman Wine Cottage
As we soar through the skies, keep your eyes peeled for a familiar sight – Interstate 77 in all its glory is right below us! And, if you know Erin and I, you know we can't go long without talking about wine! That's why we highly recommend a stop at the Lake Norman Wine Cottage. Sip and savor some delicious new wines while perusing their gift shop or lounging on their outdoor patio.
Lakefront Dining in Davidson, NC
Not a wine enthusiast? No worries! The North Harbor Club right next door has got you covered with their focus on using only the freshest ingredients in their dishes. And with a fully stocked bar and breathtaking views, it's a must-visit spot on your Lake Norman journey. Don't forget – both of these spots are accessible by boat, with slips available for you to take a break from the lake and indulge in some delicious food and drinks.
Now, let's keep going and check out more of Lake Norman's incredible 520 miles of shoreline. As we cruise over the main channel, we're headed to one of the best waterfront dining spots in the area – Hello Sailor! This is a place where you can boat right up and enjoy some delicious lunch or dinner. With a stunning outdoor seating area overlooking the lake, it's no wonder this place is packed during boating season.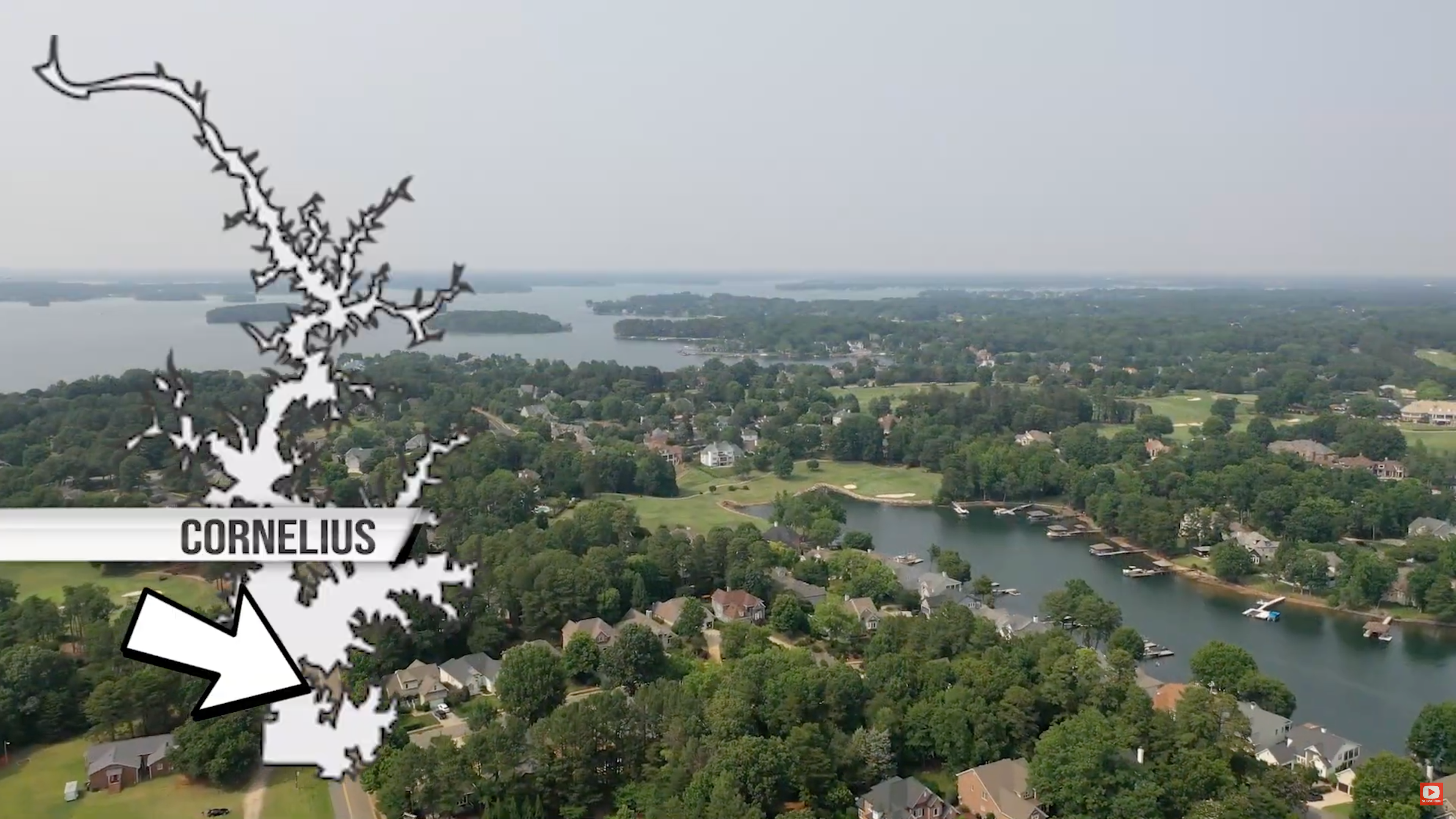 Cornelius, North Carolina
The Peninsula in Cornelius
As we continue our journey through Cornelius we travel south around several peninsulas surrounded by Lake Norman.  Roads that service these peninsulas would be Walter Henderson, Bethel Wood and Bethel Church Road.  Although this is not country club living it is amazing nonetheless.  
Live at The Peninsula
But wait, there's more! Just a bit further south we have the other jewel of Lake Norman and one of the top two communities inquired about by buyers relocating to the area – The Peninsula in Cornelius.  This is an absolutely stunning waterfront community with a country club setting and atmosphere, sitting on just over 11 miles of Lake Norman shoreline. You'll find many of the same amenities The Point offers, such as golf, swimming, tennis, aerobics, and two restaurants, both of which offer inside and outside dining overlooking Lake Norman.
Lifestyle in Cornelius
And let's not forget about the town of Cornelius – the closest to Charlotte, NC that sits on Lake Norman's shoreline. They have a very active kids club that many of our clients really like as well. For those of you who are looking for a luxury neighborhood and a country club lifestyle, both The Peninsula and The Point should be at the top of your list.
Just a short distance down the lake, we arrive at the Peninsula Yacht Club, where the country club lifestyle continues. Contrary to what many think, you do not need to live in The Peninsula in order to become a member here. There are different levels of memberships, some of which even include a boat slip. It's an amazing setting where you can enjoy swimming, dining, kids activities, and club events. The long-range views overlooking the marina from the outdoor veranda are simply breathtaking.
Heading south and around The Peninsula, we quickly stumble upon yet another sought-after boat-up restaurant. In fact, this was one of the first spots Erin and I hit up upon arriving in North Carolina! The sun was shining, and we couldn't resist taking a seat on the stunning outdoor patio with a chilled bottle of Chardonnay and a cheese platter. Since then, we've made it a habit to swing by the Port City Club whenever we get the chance.
The Lake Norman Sailing Club
Ok, let's jump on a quick flight west back to Denver, NC – as we pass along this western shoreline on the way to safe harbor, a major marina on the west side, you'll see many masts rising up. This is home to Lake Norman Sailing Club.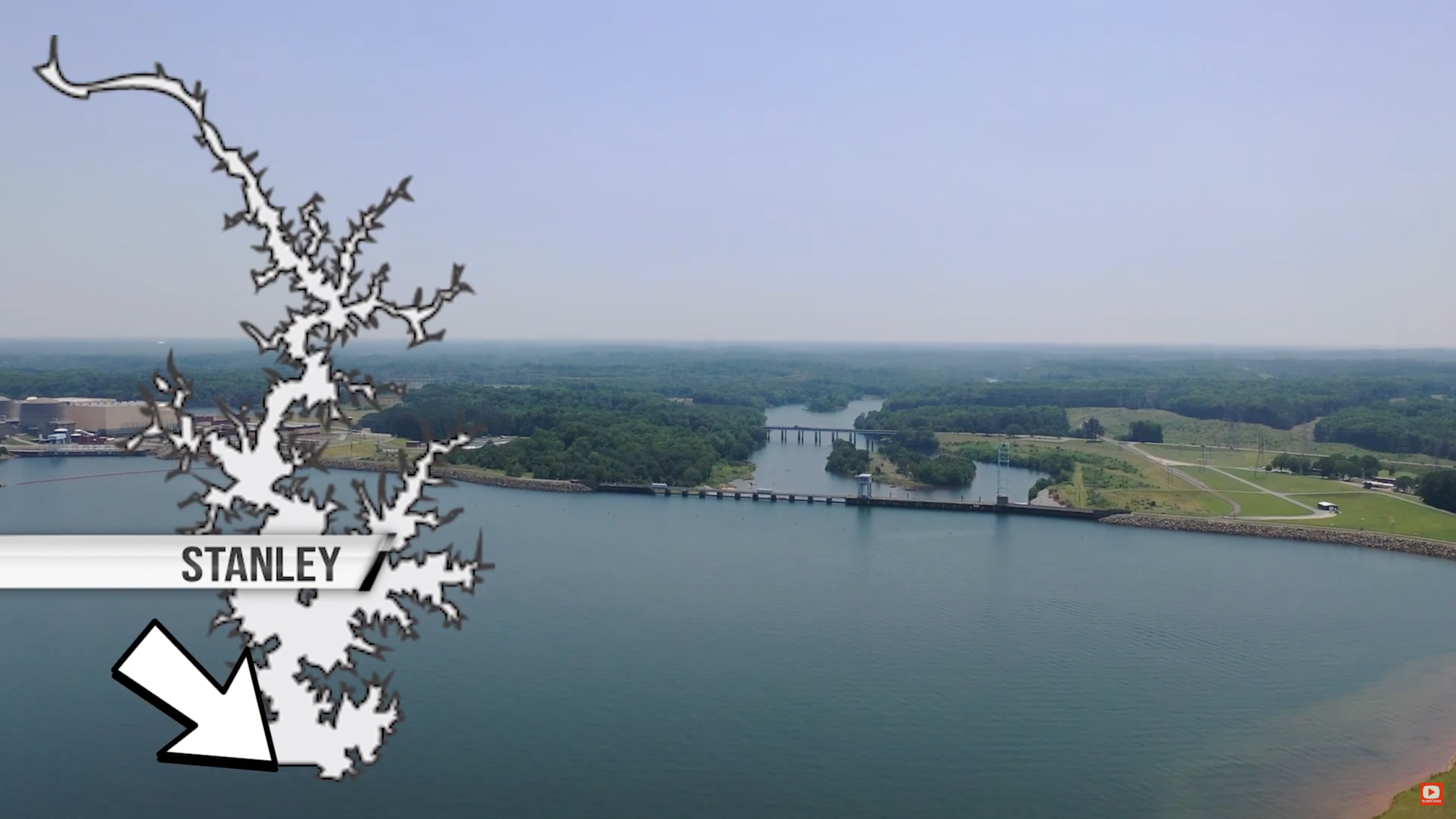 Stanely, North Carolina
Relax at The Cowans Ford Golf Club
I want you to be aware we have barely scratched the surface of Lake Norman as we approach its southern end.  Our next stop is the Cowans Ford Golf Club, situated in the town of Stanley, NC. This establishment offers a range of activities, including golf, tennis, and pickleball, as well as hosting various events throughout the year, such as wine tastings, shag dancing, and weddings.  Although it is a small stretch of shoreline, many are unaware that parts of Stanley are sitting on the Lake Norman shoreline. However, the waterfront homes in this neighborhood provide some of the most breathtaking long-range views of the lake and are conveniently located near all the amenities.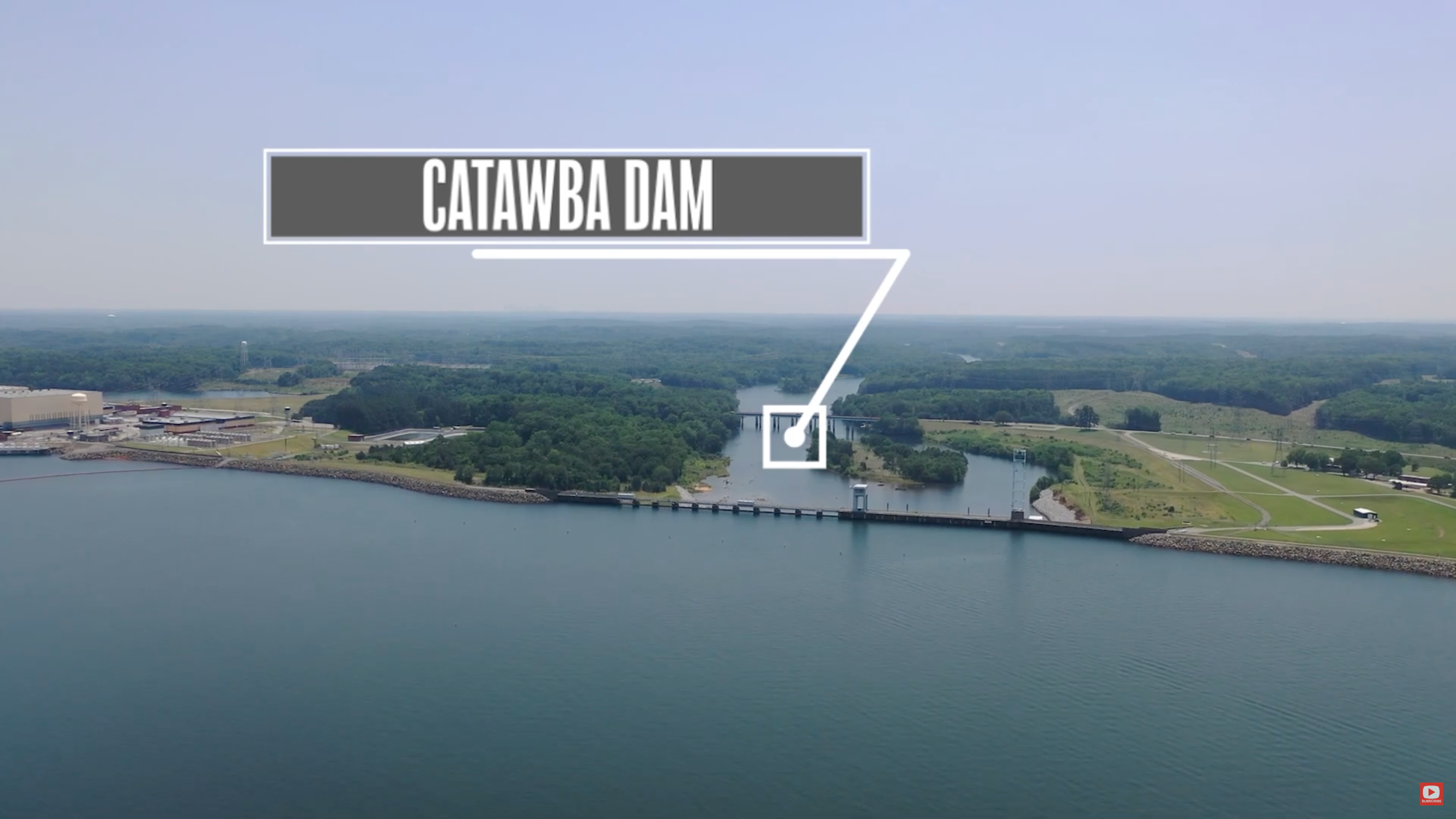 Last Stop: The Catawba Dam
So here we are – wrapping up at the Catawba Dam where Lake Norman went from a tall wall of concrete to a 50 square mile pool of water surrounded by some of the most beautiful properties in all of North Carolina. There is something for everyone on Lake Norman, from multi-million dollar mansions to small two bedroom cottages. So come on out and have a look and you too will find out why Erin and I and so many others are relocating to Lake Norman.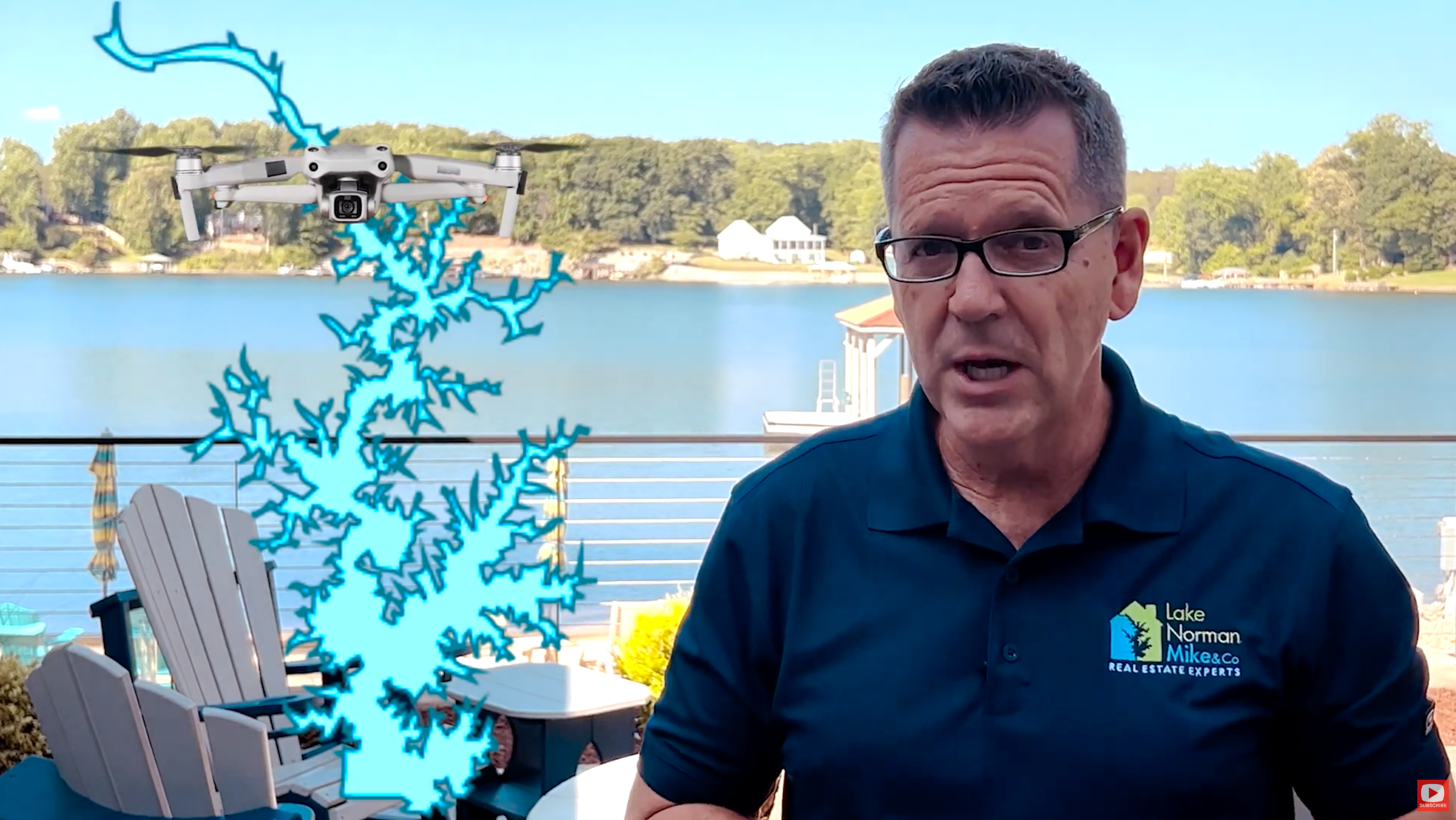 Find Your Home on Lake Norman
If you've found our flight today gave you a better idea of what lake life on Lake Norman might offer, please make sure to subscribe to my Youtube Channel for more content like this. If you're serious about a move or even a visit, you might want to watch our video series right over there, where we dive much deeper into exactly what it's like living in Lake Norman North Carolina! Thanks for watching, and I hope to see you on the lake.