LAKE NORMAN HOMES FOR SALE
Explore Lake Norman Area Real Estate & Discover Communities Around the Lake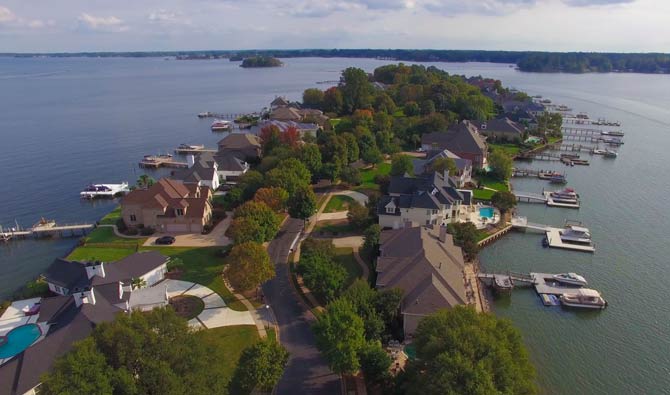 About Homes for Sale in the Lake Norman NC Area
Lake Norman is simply a beautiful place to call home! For those of you who already live here, we are certain you appreciate the activities the lake brings to the area. For those of you who are considering, or will be relocating to the area, you are in for a real treat. Please make sure to view our growing library of neighborhood video guides to get a better feel for just how special Lake Norman really is.
THE LAKE NORMAN LIFESTYLE
Explore the Beautiful Lake Norman Area
Browse lake Norman homes by city
LAKE NORMAN MAP | CLICK TO NAVIGATE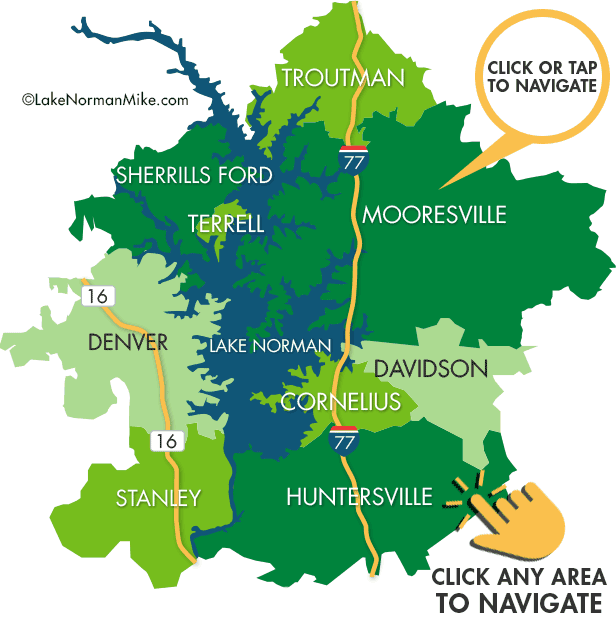 FEATURED LAKE NORMAN NEIGHBORHOODS
Browse available homes for sale
More Featured Lake Norman Neighborhoods
Neighborhoods with * provide informative video guide with aerial footage.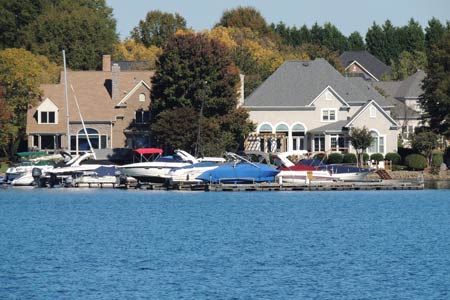 Lake Norman Real Estate Guide (Continued)
Lake Norman rests on almost 520 miles of shoreline! When Erin and I first heard this we thought, how is this even possible? It only took one trip out on the lake to realize that, without navigation, we may have never made it back to where our journey had begun earlier in the day! The unique thing about Lake Norman is the hundreds of smaller coves that offer very calm shorelines for those of you who like to get your Kayak or Paddle Boarding on. While at the same time, offering deep water main channels for those who prefer wake boarding, jet skiing or sailing. Those who own real estate on the shores of Lake Norman with their own boat slip can also enjoy lunch or dinner at several restaurants that provide boat access for dining out Lake Norman style.
You will find other things like, fishing and guided fishing tours, several parks, walking trails and a whole host of activities right at your fingertips. Oh yes, something my bride would never let me forget, there are plenty of dog parks too!
If we just hit the rewind button to 1959, you might have found yourself trying to boat or float on a corn field. This would have been right before the decision was made to dam up the Catawba River we now refer to as Lake Norman. Fast forward to 2015 and you have some of North Carolina's most prime real estate. From 900 square foot bungalows to 14,000 square foot mansions, these homes have some of the most breathtaking views you have ever seen.
Lake Norman Real Estate Is Experiencing Growth!
Real estate values as of mid 2015 have almost completely recovered from the downturn of 2008-09. Many developers who bought land and had projects lined up pulled out during the decline but are now back in the game and building in full force. Permits for new construction at the end of 2015 are expected to reach the levels of 2007-08 when they peaked. Growth is expected to remain high as the demand to live near Lake Norman remains strong.
Getting Around Lake Norman is Easy
The two major freeways which access the Lake Norman Area are I-77 and Highway 16. Interstate 77 bridges Charlotte to the cities of Huntersville, Cornelius, Davidson and Mooresville, all the way to Statesville even farther north. Highway 16–known to locals as "new 16" as opposed to "old 16" which is the slower Business Highway 16–services the quieter side of Lake Norman for the towns of Denver, Sherrills Ford, and including the zipcodes for Iron Station and Stanley. Hint: Use the "Clickable" Map of Lake Norman above to see where each town is located and for valuable community information.
Many of those who live around the lake make the daily trek to Charlotte for work. Commuting times will vary depending on whether you are accessing Charlotte from Highway 16 or I-77. The congestion on the I-77 side of Lake Norman is heavy and consistent during commute times where 16 is a bit less travelled. Denver, Terrell and Sherrills Ford are considered to be on the quiet side of Lake Norman while Cornelius, Huntersville, Mooresville, Davidson offer much more for those who enjoy a little bit more shopping and nightlife.
The Metropolis Down the Road
Charlotte, North Carolina, the nation's second largest financial district and home to the NASCAR hall of fame is right down the road. A city that has been written up in many well-known publications, ranking 8th in CNN Money's 100 best places to live, while Relocate-America.com in 2008 chose Charlotte as the "Best Place to Live in America" based on crime rates, housing affordability and employment opportunities.
Let us not forget about the Bank of America Stadium and home of the Carolina Panthers! This 73,000 seat newly updated stadium sells out every weekend! NASCAR has been and will be a driving force in developing the financial strength of the city of Charlotte. As of recent account, approximately seventy five percent of the NASCAR industry's employees call Charlotte their home.
North Carolina's Secret Treasure
Lake Norman is the best kept secret that many who relocate, or are considering relocating to Charlotte, initially don't know about. So, if you are in this decision making process, take a peek at some of the neighborhood videos we have completed and you too can take in the beauty we locals wake up to every morning. Before you decide on Charlotte as your permanent home we would encourage you to take the 20 mile drive to the Lake Norman area and see if you end up making the same decision we did. Erin and I said yes to Lake Norman several years ago. Say "YES" and make it your home too. Search Lake Norman Homes For Sale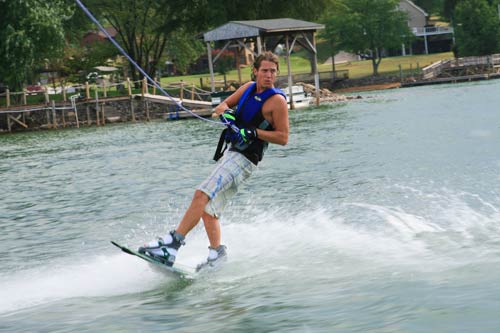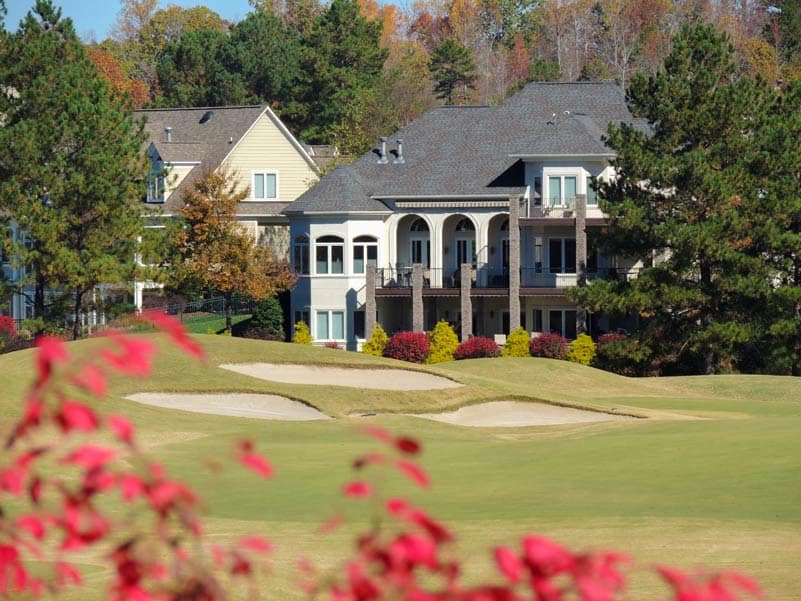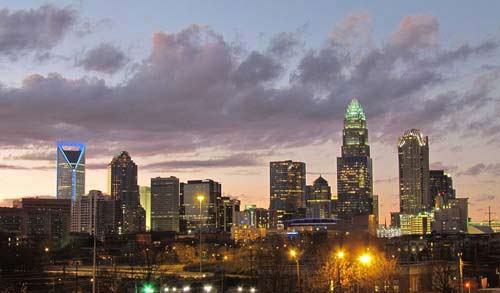 Buy & Sell Lakefront Homes With Lake Norman Mike - The Lake Norman Area Waterfront Real Estate Experts
Lake Norman Mike has been in the business of waterfront real estate for over 30 years. We offer our clients free education through our Homeowner's Academy. Our team has the experience to help you sell your home. If you are buying or selling on Lake Norman, our team's expertise can help you immensely in that process. Lakefront North Carolina real estate is our passion and Lake Norman is our home. From the beautiful water, to the exciting sport and leisure activities, cultural and community events, and proximity to Uptown Charlotte – Lake Norman has it all. Not to mention it's just a couple hours to pretty much everything else North Carolina has to offer!
Browse our website to search homes for sale, check out our Solds page to see recently sold homes in the area (specifically waterfront homes), and check out our blog to learn everything about Lake Norman. From articles on home buying to area attractions like the Lake Norman State Park and National Whitewater center – we explore Lake Norman with you.
Home buyers are looking for a Lake Norman real estate agent who will guide them through the home buying process and help them make smart decisions. Homeowners interested in selling are looking for someone to get them top dollar and bring a certain level of professionalism to the table. Lake Norman Mike has the experience, knowledge, and resources to help you buy or sell your home with the utmost professionalism and client care.