Lake Norman Real Estate Agents - #1 On The Waterfront!
From the bustling Charlotte suburb of Huntersville to the peaceful country of Troutman our real estate team of consultants and agents are ready to help you buy or sell. With Lake Norman Mike & Co. there is a noticeable difference in your experience. Not only will your home sell for more, or you find your dream home faster – you will actually have fun doing it. Mike Toste and the Lake Norman Mike team are experts in waterfront real estate – buying and selling. No one beats our experience on Lake Norman. 
Our focus is specifically in the Lake Norman area, and we'd love to help you when you're ready.
We've closed over 2,000 transactions over 25+ years. Our passion & process gets your home sold quicker and for more money.
View Lake Norman Mike's Remarkable Real Estate Presentations!
Taking the marketing of your home to a whole new level.
Recent Solds On Lake Norman Waterfront
Lake Norman Real Estate Agents You Can Trust.
Our Client Reviews Mean Everything to Us.
⭐⭐⭐⭐⭐
Explore the Beautiful Lake Norman Area
We use local MLS listings that are
more accurate and up-to-date
than manually updated Zillow.com, Realtor.com, & other national search portals.
For Advanced Search Click Here.
LAKE NORMAN MAP | CLICK TO NAVIGATE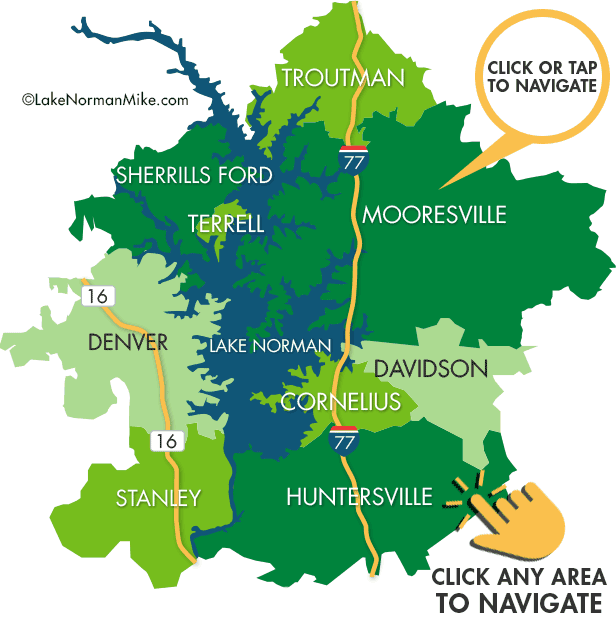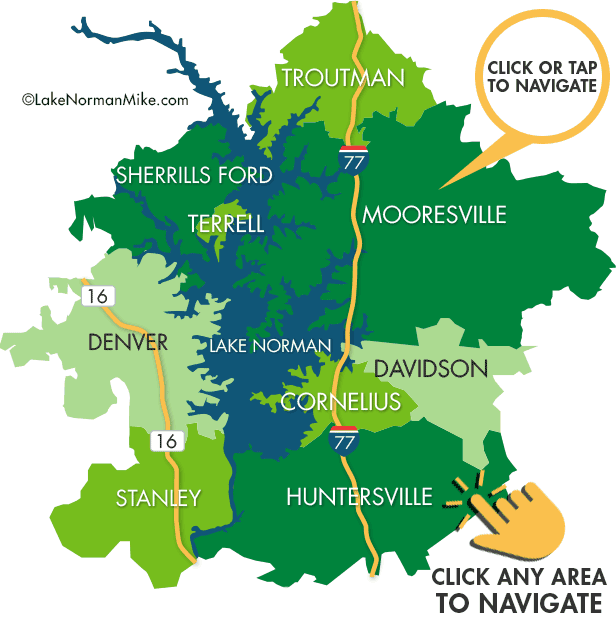 LEGEND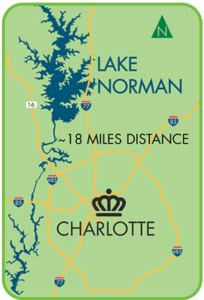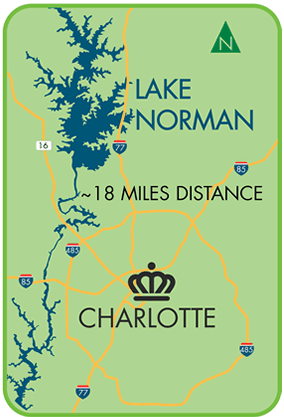 Click a town below to explore areas of interest.
Your Lake Norman Realtors®
Our mission is to help people live their best lives. We do this through offering trustworthy real estate agent services for the Lake Norman area. We love "lake life" – come join us!
Top-Rated Lake Norman Real Estate Agent
Buying or selling a home can seem daunting. But what if we told you that it doesn't have to be? With the right real estate partner, listing or purchasing a home can be seamless, perhaps even enjoyable! Lake Norman Mike & Co. have closed over 2,000 transactions and have been leaders in the real estate industry for over 30 years.
Get in Touch Today
18825 W Catawba Avenue
Suite 200
Cornelius, NC 28031
We are open Monday to Saturday for inquiries and showings. For additional questions, you can call us at
(704) 584-9781
or you can find us on
Yelp
.
Lake Norman Mike has been in the business of waterfront real estate for over 30 years. We offer our clients free education through our Homeowner's Academy. Our team has the experience to help you sell your home. If you are buying or selling on Lake Norman, our team's expertise can help you immensely in that process. Lakefront North Carolina real estate is our passion and Lake Norman is our home. From the beautiful water, to the exciting sport and leisure activities, cultural and community events, and proximity to Uptown Charlotte – Lake Norman has it all. Not to mention it's just a couple hours to pretty much everything else North Carolina has to offer!
Browse our website to search homes for sale, check out our Solds page to see recently sold homes in the area (specifically waterfront homes), and check out our blog to learn everything about Lake Norman. From articles on home buying to area attractions like the Lake Norman State Park and National Whitewater center – we explore Lake Norman with you.
Home buyers are looking for a Lake Norman real estate agent who will guide them through the home buying process and help them make smart decisions. Homeowners interested in selling are looking for someone to get them top dollar and bring a certain level of professionalism to the table. Lake Norman Mike has the experience, knowledge, and resources to help you buy or sell your home with the utmost professionalism and client care.