So, you're thinking about buying a waterfront home on Lake Norman? You're not alone! This has certainly become a trend as we have people moving to the Lake Norman and Charlotte areas from all over America. Even Erin and I moved to Lake Norman from California years ago – There is much to love about everyday lake living! If this is your first time on our website and you want to know what it's like to work, eat, live, sleep, play, and the pros and cons of living in the Lake Norman area – make sure to follow us on Youtube and our other social media channels to stay in the know! If you need help navigating the real estate market on Lake Norman, North Carolina, please send me a message. I'd be happy to offer my guidance for free!
Without further ado, let's break down the top 3 things you MUST KNOW before buying a waterfront home on Lake Norman. Make sure to stick around for the last one! It happens much more often than you think.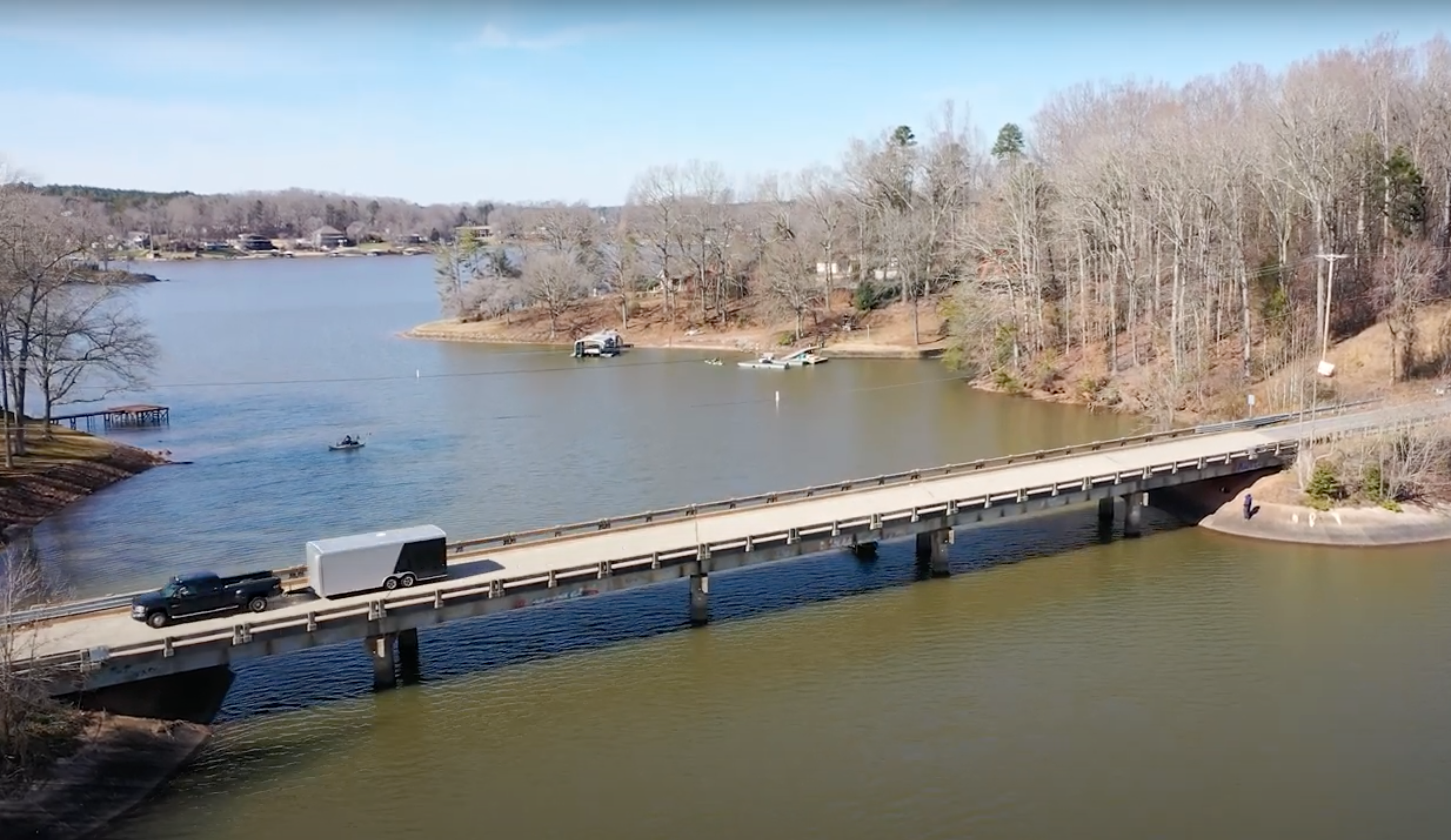 Lesson #1: Bridge Height on Lake Norman
Believe it or not, this is probably the one thing that many buyers simply don't realize or ever think about when shopping for a lot or lake house on the Lake Norman shoreline. I can't blame most buyers for getting blinded by the water view when they walk through the front door! Sure, they may walk out to the dock to look around, but they rarely think about how the location might impact their ability to cross under the bridge by boat and get around to enjoy Lake Norman fun. I challenge you to ask anyone else how many bridges are on the Lake, their locations, and how high they sit off the water, and see what type of answers you receive. Believe it or not, there are 5 major bridges on Lake Norman, plus a network of 16 additional bridges that connect the smaller island towns, creeks, and river that service the lake.
Boat Passage Under Bridges
Many of these bridges on Lake Norman sit very low on the water. This might present an obstacle to contend with if you're out enjoying the lake on a regular basis. The Mount Pleasant Road Bridge, up where Erin and I live on the lake in Sherrills Ford, has a whopping 5-foot 5-inches of clearance when the lake is full. This can limit your access to certain parts of the lake at different times of the year, and even make passage by boat impossible altogether.
Collapsing Boat Towers
What does this mean for the Lake Norman boat-a-holic? Not much if you have a standard pontoon boat with a bimini top or an older wakeboard boat that sits low in the water. On the other hand, those of you who have larger boats or towers that do not collapse easily, you might be at the mercy of the dam to set the water level low enough for passage. For those that have the new power tower structure, it's no problem at all, but avid boaters will attest the slightly older towers are a pain in the rear to take up and down. Now, try doing it in the dark after returning from dinner at one of the lake's restaurants on opposite sides of the bridge.
Get to Know Lake Norman Bridges
If Erin and I want to hit one of the waterfront restaurants like Apps and Taps, we have to navigate not only one bridge, but a total of THREE! All of which sit low enough on the lake to have to lower the tower. If you're buying a Lake Norman waterfront home, it might be a good idea to work with someone who can point these things out before you make your purchase. That would be "Lake Norman Mike!" After all, I would hate to invite you to lunch at one of the waterfront restaurants only to receive a call from you that you're stuck under a bridge!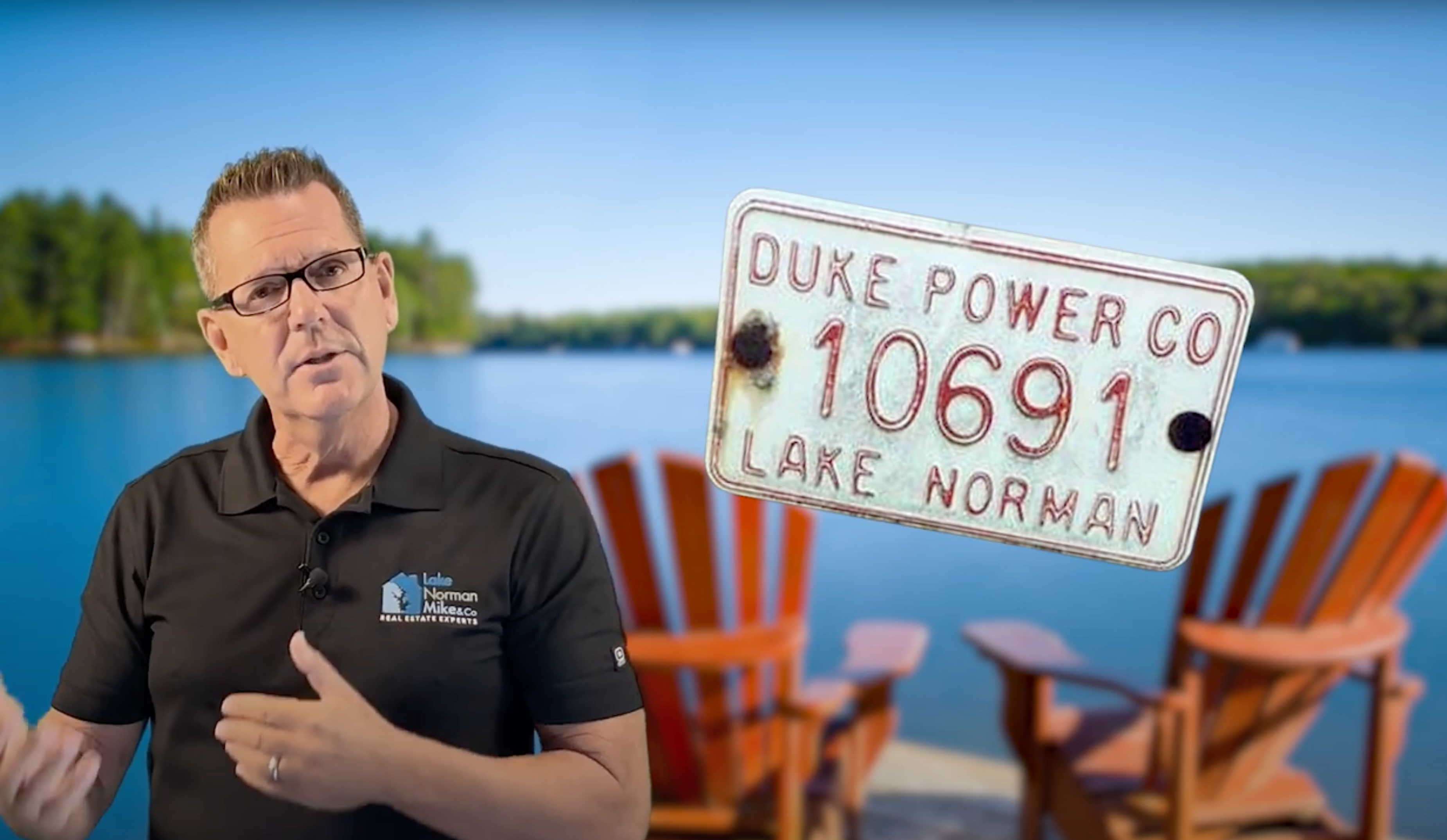 Lesson #2: Your Lake Norman Dock… Is it Permitted?
I cannot stress the importance of this enough: Please, make sure you obtain the permitting history of the existing dock of the Lake Norman home or lot you are considering buying. This is an ongoing problem on Lake Norman. Duke Energy controls all things when it comes to what you can or cannot do with respect to structures over the water on the banks, and usually within the first 50 feet between the water's shoreline and your home.
Identifying Your Duke Energy Boat Dock Permit
There is a small metal tag mounted on the back of the dock that has a number on it, usually facing the lake. Duke Energy will place this sign on the dock when it has been formally approved by them. Don't just rely on this, though! Make sure the former owner is able to provide you with a copy of the physical permit. Over the years, many docks were modified by property owners without the permission of Duke Energy. There are many restrictions pertaining to dock size, how far it encroaches into the lake, and even the deck height. A full permitting history will show you the permit tag number, as well as a sketch of the original structure built and approved on the property. MAKE SURE the tag number matches the permit number attached to the back of the dock. It would not be the first time where there was a metal tag on the dock and no permit on file with Duke Energy.
Make Sure Your Dock Permit is Current
Trust me when I say this – you do not want to move into your brand new lake home and realize your dock was either never permitted at construction or there were modifications done that Duke never approved. It is not an easy fix, and can lead to required modifications to make it conform to their requirements.
Do not close on a lot or home with a dock sitting on Lake Norman's shoreline unless you have the permit and have verified the sketch that matches the dock currently sitting on the lake.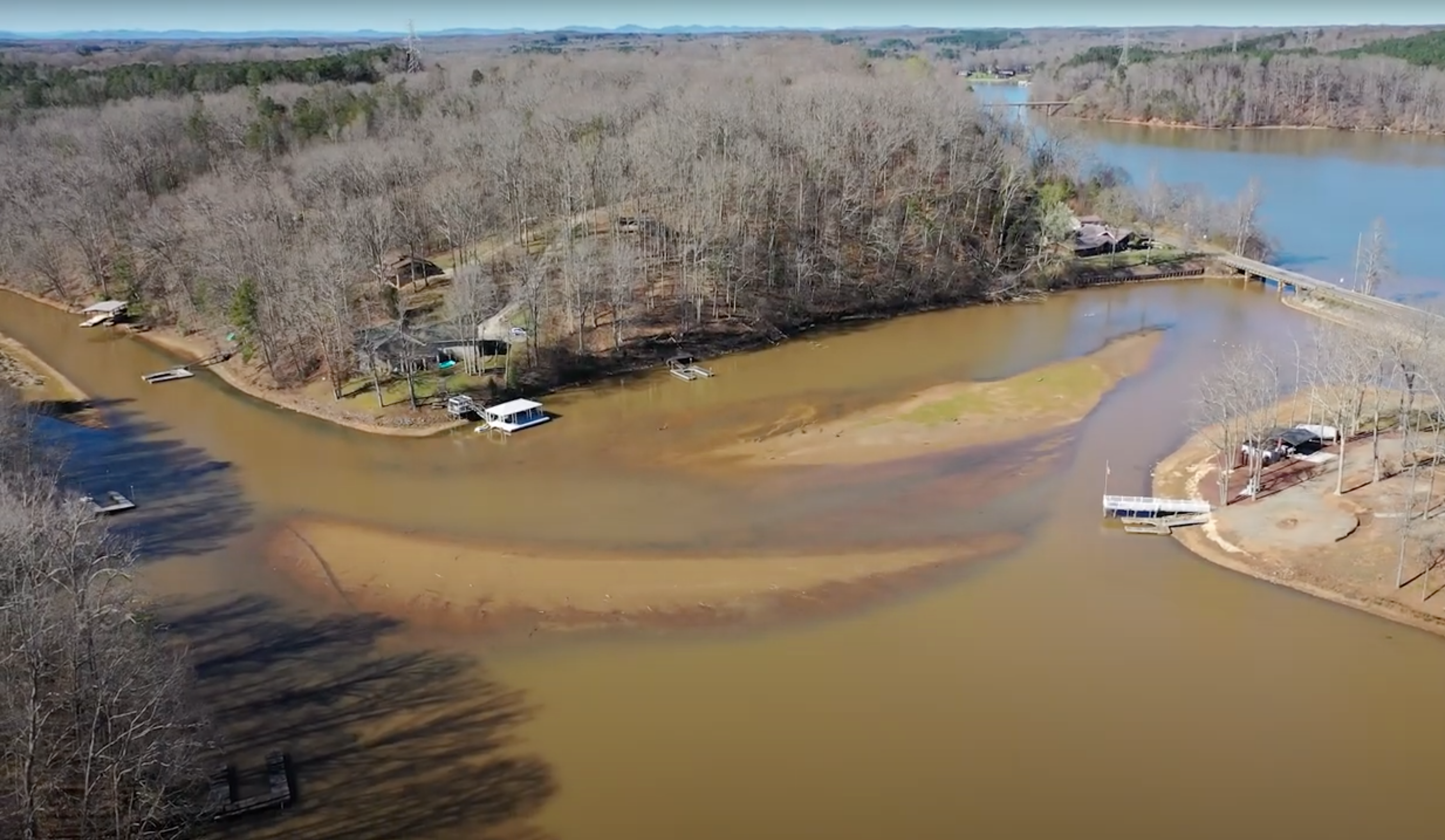 Lesson #3 (And the Most Overlooked): Lake Norman Water Depth
If you have spent any time on my website or YouTube channel, you know I talk about this one often. I will try to be brief, but it is very important to understand that Lake Norman is a huge lake with lots of small fingers. With 520 miles of shoreline, you are going to have many coves that come off the main channel throughout the lake. As a matter of fact, a majority of the homes and lots for sale on Lake Norman sit on coves. Many of these coves can appear to have excellent water – that is, if you happen to be viewing them at certain times of the year.
Changing Water Level
Lake Norman water levels drop typically between three to six feet every year. Does not sound like that much, right? Well, for many coves, that could be a very large drop, and have a negative impact on your ability to have fun on the lake. It would take a while to list all the coves that have issues with year round boating, so I will leave that for another day.
Boats and Low Water
There are many boats that have to be removed from their waterfront property, or they might end up sitting on dry land at certain times of the year. This could be the same "dry land" behind a property you viewed in the fall that had a boat floating on shimmering lake water. Nothing will kill your dream of lake living faster than your boat sitting on the bottom of the lake in July while your friends are out enjoying it.
Boat Lifts
I will also quickly point out that most docks have boat lifts, and many of these lifts have floats. They normally need between three to four feet to operate below the water. This has to be factored in when you're measuring the water depth at the dock. A simple 2 foot drop in lake fill level (which is the target lake level that Duke Energy aims for during the boating season) means you better have 6-7 feet of water depth, or your boat may be stuck on a lift all summer. A good rule of thumb is to shoot for 9-10 feet as a minimum.
Education is Key
Stuff happens when you live on the lake – just make sure to do your research! Figure out where the lot or property you are interested in is located in relation to bridges, most definitely check the water depth at the dock before making an offer, and PLEASE make sure its been approved and permitted by Duke Energy!
Moving to the Lake? Call Lake Norman Mike!
If you are looking into relocating, buying, or selling real estate on Lake Norman or in the nearby towns, please feel free to reach out to me, and I would be happy to set up a time to visit with you one on one.
Hope to see you on the lake!