So you are thinking about relocating to the Lake Norman area? Or perhaps you have already decided to make the Lake Norman area your new home. And why not?!
In 2018 Lake Norman was rated one of the top 10 lakes in the USA by MSN outside of the Great Lakes. It also ranked Cornelius as one of the best "lake towns" in the country. These are probably just a couple of the many reasons people are relocating here in droves.
I speak from experience as Mike and I made the life-changing decision to uproot our careers and our personal lives in order to make the same move. We have not looked back or had a single regret.
Explore the Blue Ridge Mountains in under two hours, and in just three you can have your toes in the sand, listening to crashing waves. Not only is Lake Norman a great place to relocate to, but we also find it priceless to be able to get away no matter what mood we are in.
GET YOUR FREE RELOCATION GUIDE HERE – STOCK FULL OF LAKE NORMAN INFORMATION
Why Relocate to Lake Norman?
With its ideal climate, four seasons, and geographic location, the Lake Norman area is an ideal place for those that are relocating due to a job transfer, looking to retire, or just searching for a new place and a change of scenery.
Also, with its close proximity to Charlotte (about 20 miles), it makes a wonderful haven for the many people whose careers are in that spectacular metropolitan area. In addition, you have the convenience of being close to a major international airport.
What's the weather like in Lake Norman?
The average temperatures throughout the year rarely drop below 20 degrees Fahrenheit and rarely exceed 95 degrees Fahrenheit. Usually, our chilliest winter days will hover around 32 degrees Fahrenheit and our warmest summer days will be in the neighborhood of 88 degrees Fahrenheit, and yes, it is quite humid. Although, you may be surprised when the area does get that occasional perfect summer day in the 70's.
Oh yes, that is Lake Life at its best!
Winter and Offseason in Lake Norman
As far as snow is concerned, we receive an average of approximately 3 inches per year. From my experience, this usually has been only one snow day per year. When that happens, the brakes will come screeching on at local businesses and the schools will close. Things will get really quiet. Almost everyone will be forced into a Winter Wonderland holiday! Most snow days we have been through yield enough of the fluffy white stuff for playing, sledding/tubing or making a snowman.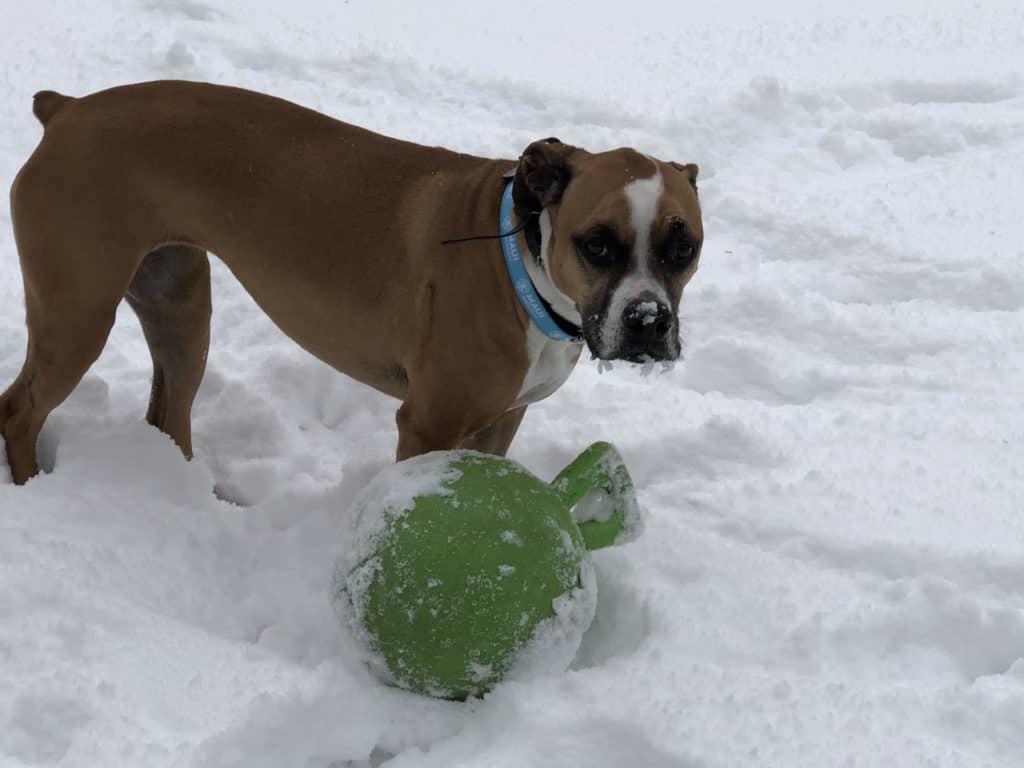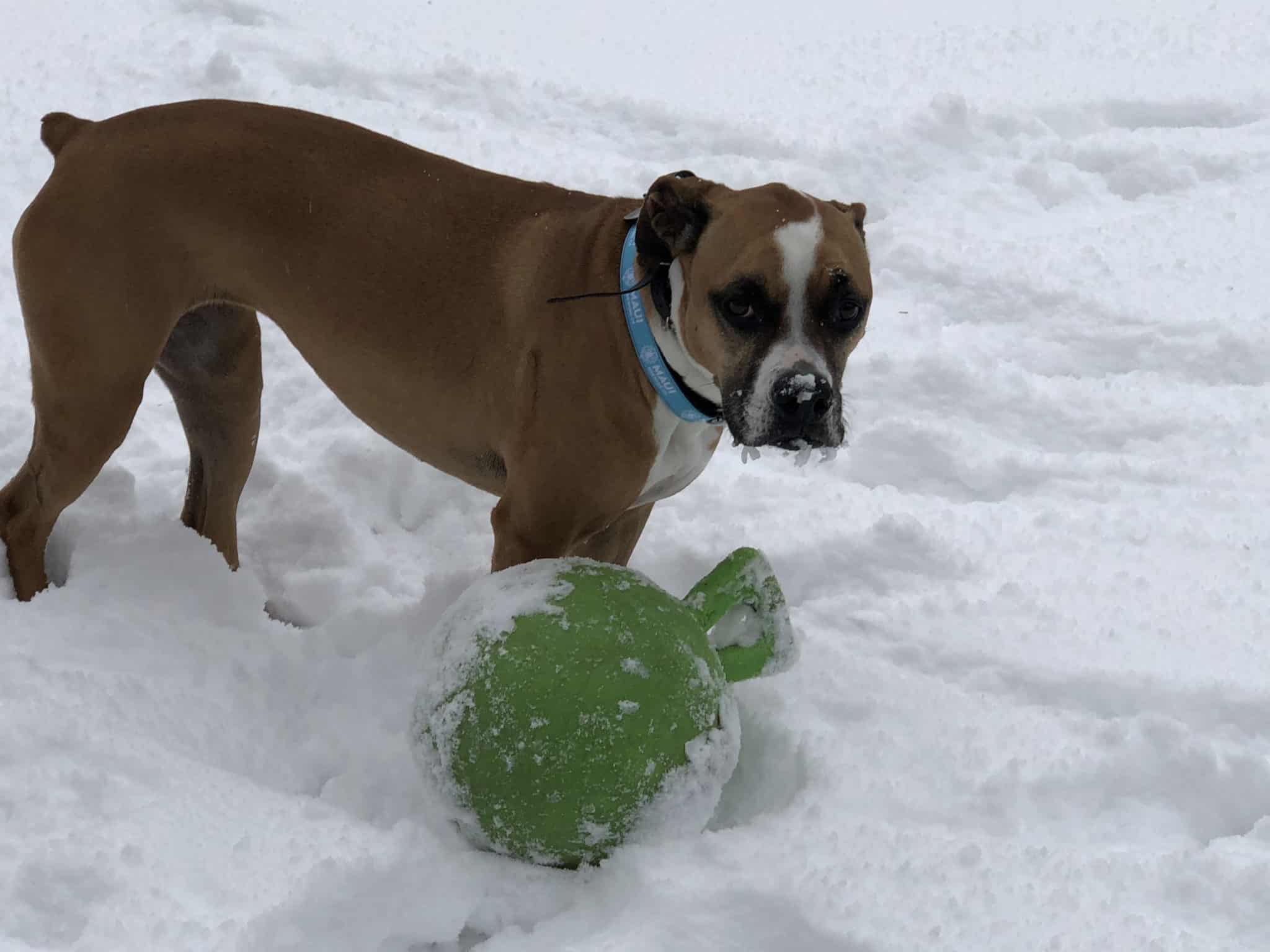 Our boxer, Dana, who is not a fan of cold weather still has an absolute field day! What's wonderful about this, is that we get enough snow to enjoy a day of fun and perhaps a day off work, but not enough to worry about shoveling driveways or snowy, icy commutes.
On the Lake Norman area's more customary winter days, it is not uncommon to have temperatures starting out in the 30's only to reach the 60's by later in the afternoon. On those days, don't forget to layer! I would venture to say that most Lake Norman residents check their weather apps fairly frequently during the winter months. The area usually averages approximately 45 inches of rainfall annually. We also get an average of 214 sunny days in the Lake Norman area, while the US average is 205. Great news for all you sun seekers out there!
Lake Norman History
Lake Norman took formation in 1963 when Duke Power dammed the Catawba River in order to generate hydroelectric energy. The lake's namesake was Norman Atwater Cocke, a retired president of Duke.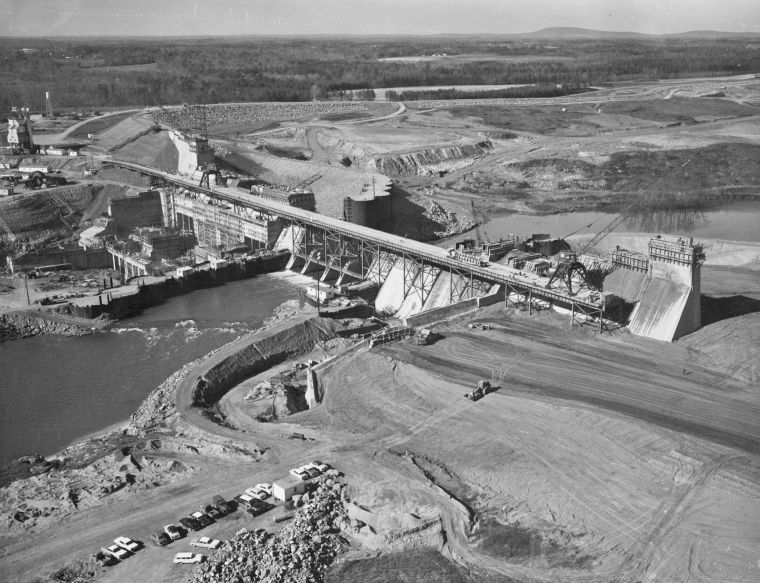 Image Source: http://www.boatwestportmarina.com/a-look-through-time-the-history-of-lake-norman/
Lake Norman By The Numbers:
Lake Norman has 520 miles (ca. 837 km) of shoreline and it is North Carolina's largest manmade lake.
It has an average depth of about 34 feet (ca. 10 m), with its deepest spots plunging close to 130 feet (ca. 40 m)!
Lake Norman is approximately 9 miles (ca. 14 km) wide at its widest and it is around 34 miles (ca. 55 km) long.
Lake Norman's surface area is about 32,510 acres.
At "full pond", Lake Norman is 760 feet (0.23 km) above sea level.
Lake Norman holds 3.4 trillion gallons of water.
During winter months the water in Lake Norman will typically range from the high 40's to the mid 50's.
When spring arrives, it will begin to warm up to the high 60's and low 70's, making it pleasant for all the water activities that make this such a special place to live.
In terms of the map, the Lake Norman area includes the towns of Catawba, Cornelius, Davidson, Denver, Huntersville, Mooresville, Sherrills Ford, Stanley, Statesville, Terrell, and Troutman. It consists of 4 counties; Catawba, Iredell, Lincoln, and Mecklenburg.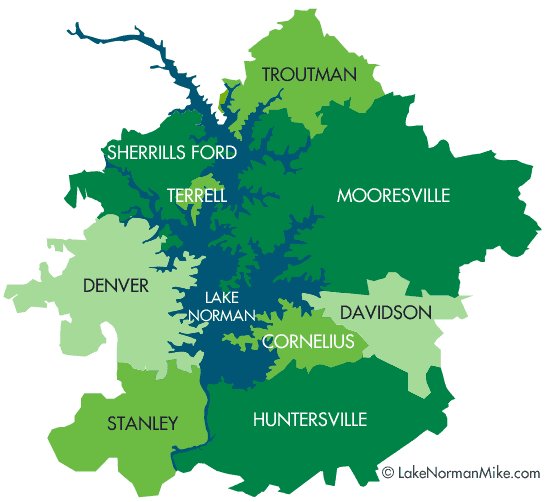 That being said, if you are looking to relocate and purchase a new home, there is no shortage of options.
Lake Norman Has It All – What's Your Preference?
Select your preference below and learn more about the top areas that provide that living experience:
There is truly a neighborhood and home to fit nearly every hobby and lifestyle!
Things to Do in Lake Norman
Now that you have found a place to hang your hat, what to do??
That depends on how much time you have. The possibilities are endless.
Restaurants
Lake Norman offers many waterfront restaurants that can be accessed via boat or motor vehicle. These restaurants range from upscale to extremely casual, which makes it easy to grab some grub or refreshment after a fun day out on Lake Norman.
The food and drink scene guarantees to please even the most particular foodies!
A few of our favorite spots…
https://hellosailornc.com/ ~ Hello Sailor
http://www.portcityclub.com/ ~ Port City Club
https://www.appsntapslkn.com/ ~ Apps n' Taps
http://northharborclub.com/ ~ North Harbor Club
https://www.pricklypear.net/ ~ Prickly Pear
http://eddieslkn.com/ ~ Eddie's
http://www.landingatthelake.com/ ~ The Landing
Watersports
If you haven't purchased your own watercraft yet, no need to worry! You can easily rent a boat, jet ski, paddleboard, kayak, canoe, and fishing equipment. So many water activities to participate in!
Own a boat? Read our Boat Owner's Handbook
Fishing
Lake Norman is home to multiple species of gamefish. Some of the most common species found in Lake Norman include largemouth bass, crappie, spotted bass, catfish, stripers, carp, white perch, and bream. For folks aged 16 and older, make sure you have your fishing license before heading out to see what's biting. Fishing licenses are available for purchase at most bait stores and many outdoor supply stores.
For the occasions that you may be seeking some non-aquatic activities, do not fret, Lake Norman has you covered!
Shopping and Entertainment
The area has so many unique boutique-style stores, dining, wine shops, breweries, live music venues, parks, greenway trails.
Earlier I mentioned Lake Norman's close proximity to Charlotte. This comes in handy not only for work and travel but entertainment as well. The city has so many highly ranked museums, such as the Wells Fargo Museum, The Billy Graham Library, The Nascar Hall of Fame, The Mint Museum, Carolinas Aviation Museum, Levine Museum of the New South to name a few.
There are countless tours of so many types, major concert venues, gorgeous gardens. Sports fan? The queen city has some spectacular stadiums where you can catch some football, baseball, basketball, and hockey!
You have probably grown weary of my lists of amenities and attractions by now. It's time to come see for yourself.
Take a deep breath in…and now exhale as you enjoy the quality of life that many residents and visitors experience here in the Lake Norman area.
Speak to a Lake Norman Relocation Expert
There is no time like now to make your plans to relocate to one of the best places in the Southeast.
If you are considering relocating to the Lake Norman area or browsing waterfront homes for sale our expert team can help. Not only have we helped countless people live their best life in Lake Norman, but we also live here!
Now that you know all about Lake Norman click here to browse homes for sale in the area. Use our interactive filters and maps to explore the area. Speak with a qualified Lake Norman real estate agent if you have questions.
Sources:
Cover image sourced from Charlotte Magazine, https://www.charlottemagazine.com/