Hello fellow Lake Norman lovers!
Summer is in full swing in this neck of the woods! No doubt, this is a time we all look forward to throughout Spring, Fall and Winter. We have myriads of forms of entertainment on Lake Norman, so summer is always a blast!
You can indulge in everything from fishing, to paddle boarding, kayaking, jet skiing, grilling out with your friends and family, or just soaking up the rays! Wait… I feel as if I am forgetting something… oh yeah, BOATING!
Boating is definitely a favorite pastime on Lake Norman. According to the Iredell County Lake Enforcement unit, there are approximately 45,000 registered boats on Lake Norman. There is so much imperative information to familiarize oneself with when it comes to boating safety and navigation.
Today I want to discuss bridges.
Bridges Around Lake Norman
A bridge may not sound very glamorous, but whether you are a novice or a proficient boater, this information just may come in handy at some point. You might be exploring a new cove, getting to know a new boat, visiting a friend at their new Lake Norman home, or even just simply cruising around Lake Norman.
And of even more importance, you might be shopping for your own Lake Norman waterfront home.
One may not realize the relevance of this topic until you find yourself in the following scenario.
Imagine closing on your new Lake Norman waterfront dream home and either buying a boat or attempting to bring your existing boat over only to discover you have to lower your tower or bimini every time you come and go, or worse case scenario, you cannot fit under!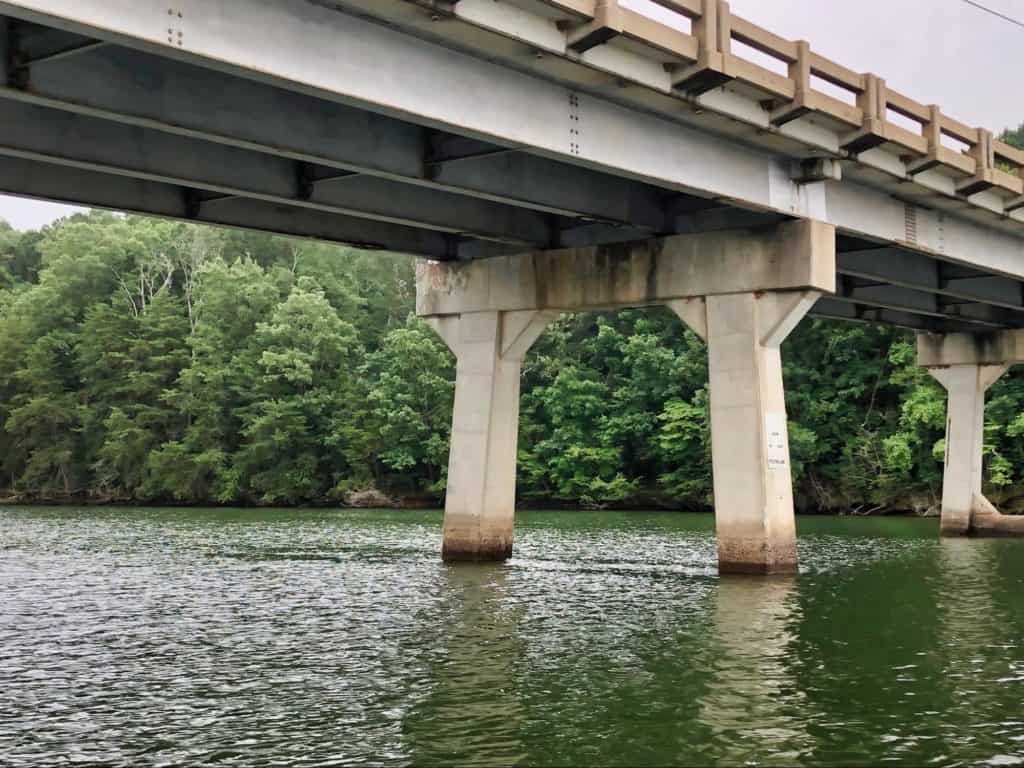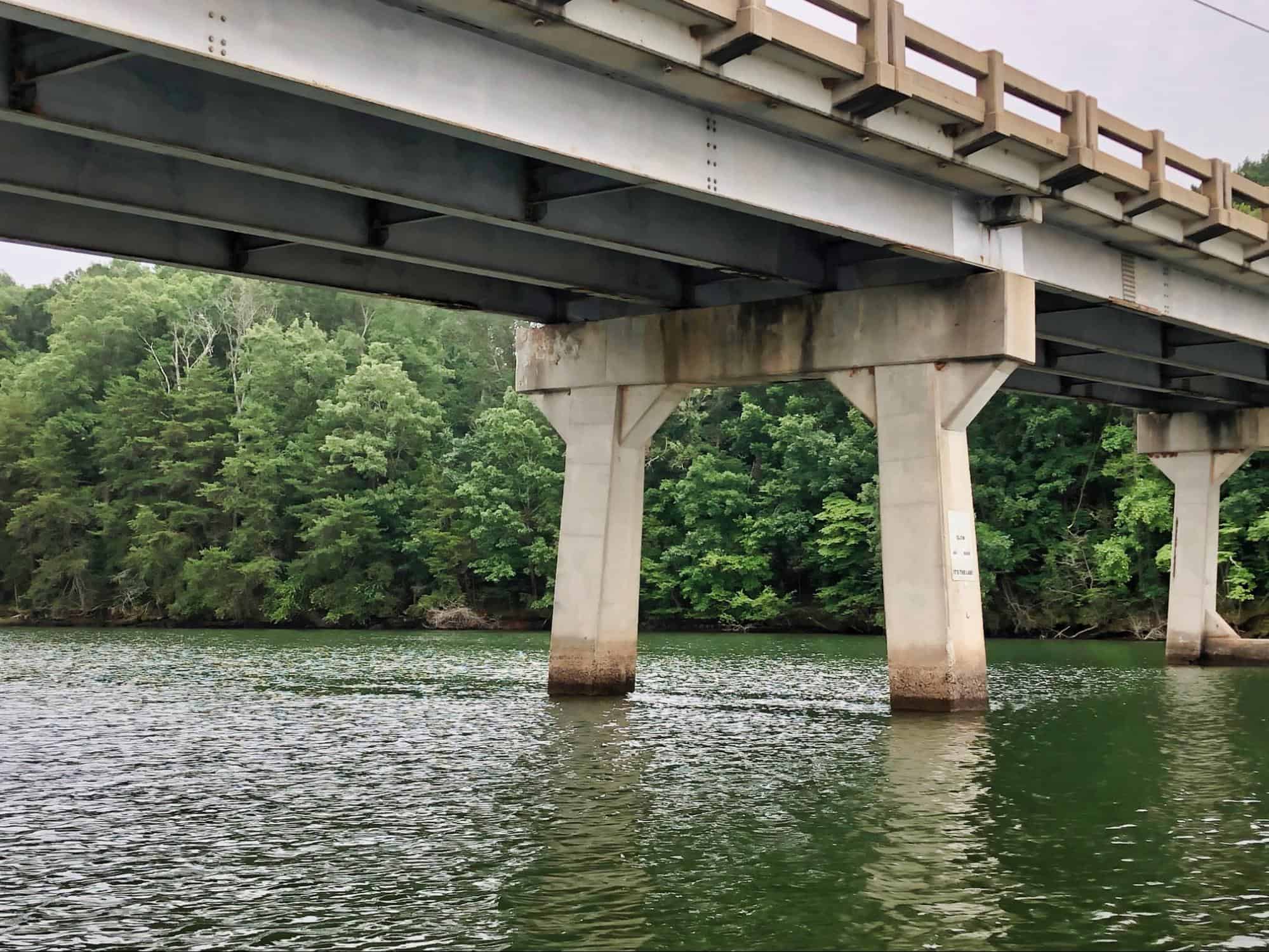 Maybe you bring your boat to your new property via trailer and just enjoy it in your cove, never going beyond there! How awful would that be?! We have 520 miles (ca. 837 km) of shoreline to explore!!!
That being said, having a gauge on bridge clearances at full pond, which is 760 feet (ca. 232 m) above sea level, is helpful knowledge to have. Lake levels can vary by as much as 8 feet (ca. 244 cm), so that is why it's especially important to have a good handle on what clearances are at full pond. Mike and I have firsthand experience with this.
I can cite two examples for you.
Know Your Bridge Clearance Levels
I got Mike a fishing trip for his birthday this year with Captain Gus.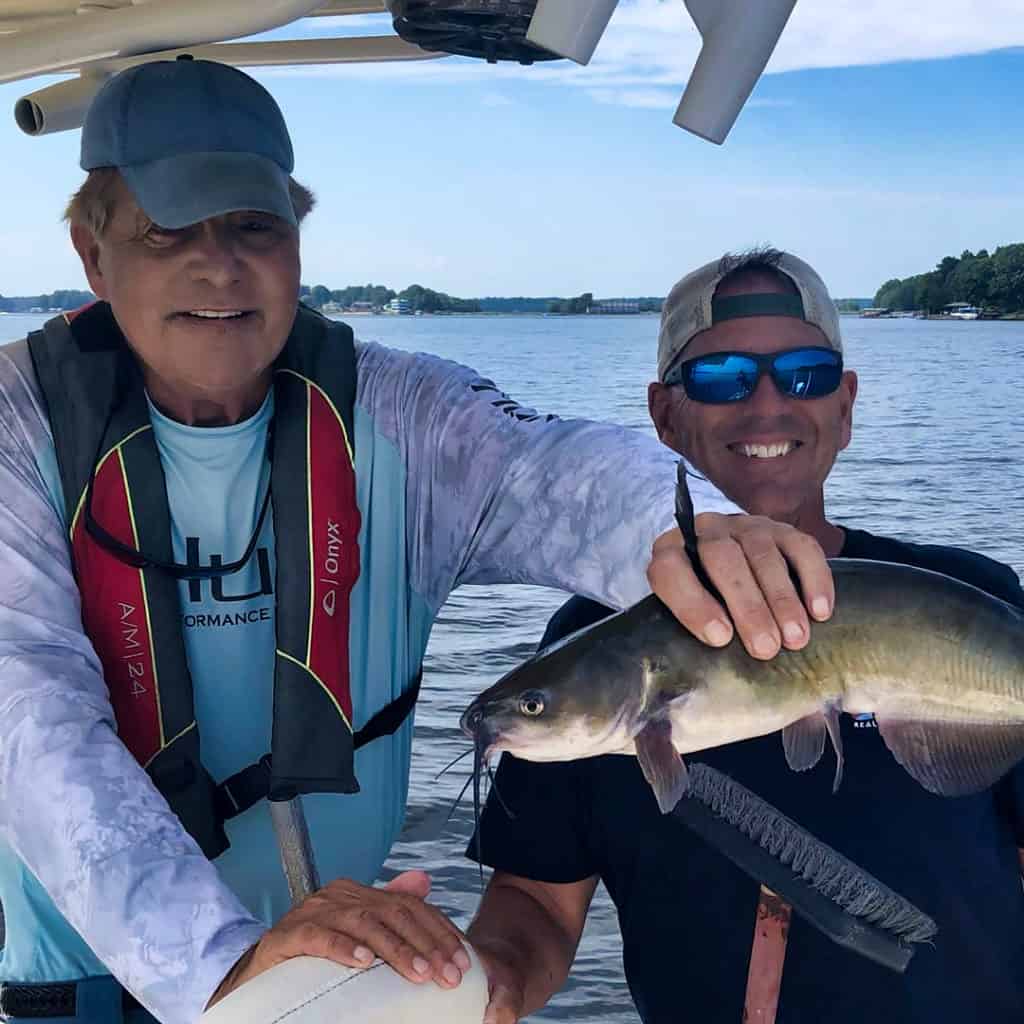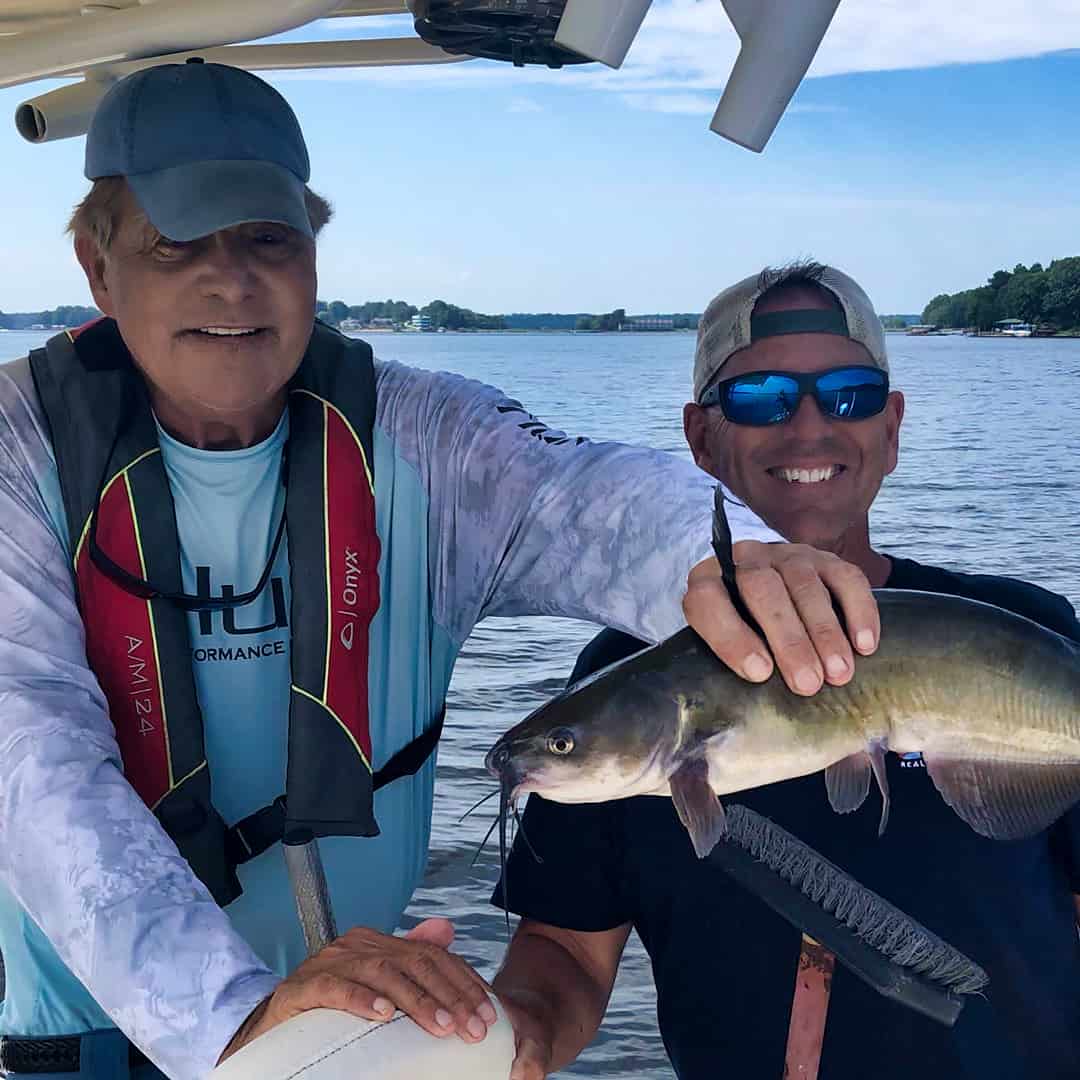 Captain Gus has a few meeting spots, he will also pick you up at your dock if you live on the lake.
Well that was not an option for us.
Why?
You guessed it, his fishing boat could not get under the bridge to access our cove.
Second example: a few summers back we were with our dear friends on their Air Nautique, needless to say this is not a boat that you want to risk bashing its tower onto a bridge. (Not that you want to bash up any boat for that matter)!
They wanted to check out a property from the lake side, in a cove that they hadn't previously ventured into. The lake was a little low. It was late into the summer, and we hadn't experienced a ton of rain that particular summer. So it did seem like we would be fine. Mike stood up and gauged the clearance from the boat's tower before we attempted this feat.
Our friend drove, sweating and praying with each sloshing wave. Fortunately, all ended well on this particular day. But if we had known in advance the clearances of all bridges on our route, that would have saved some stress and risky guess work.
Our friend would have known even at full pond if his tower could have made it safely under.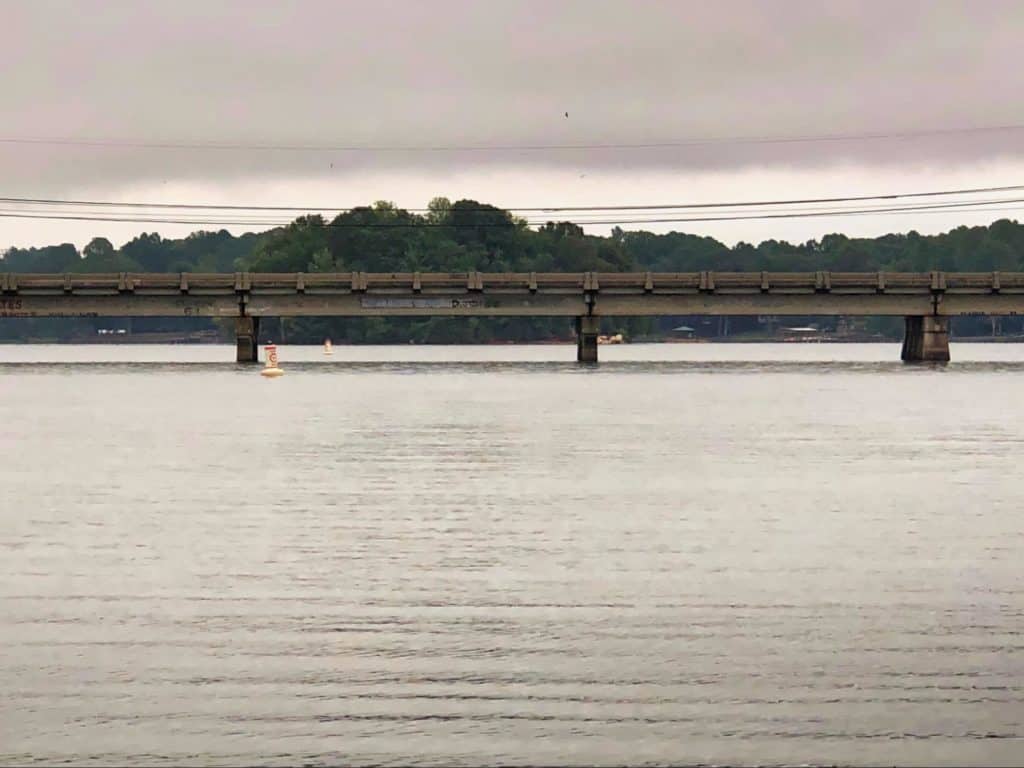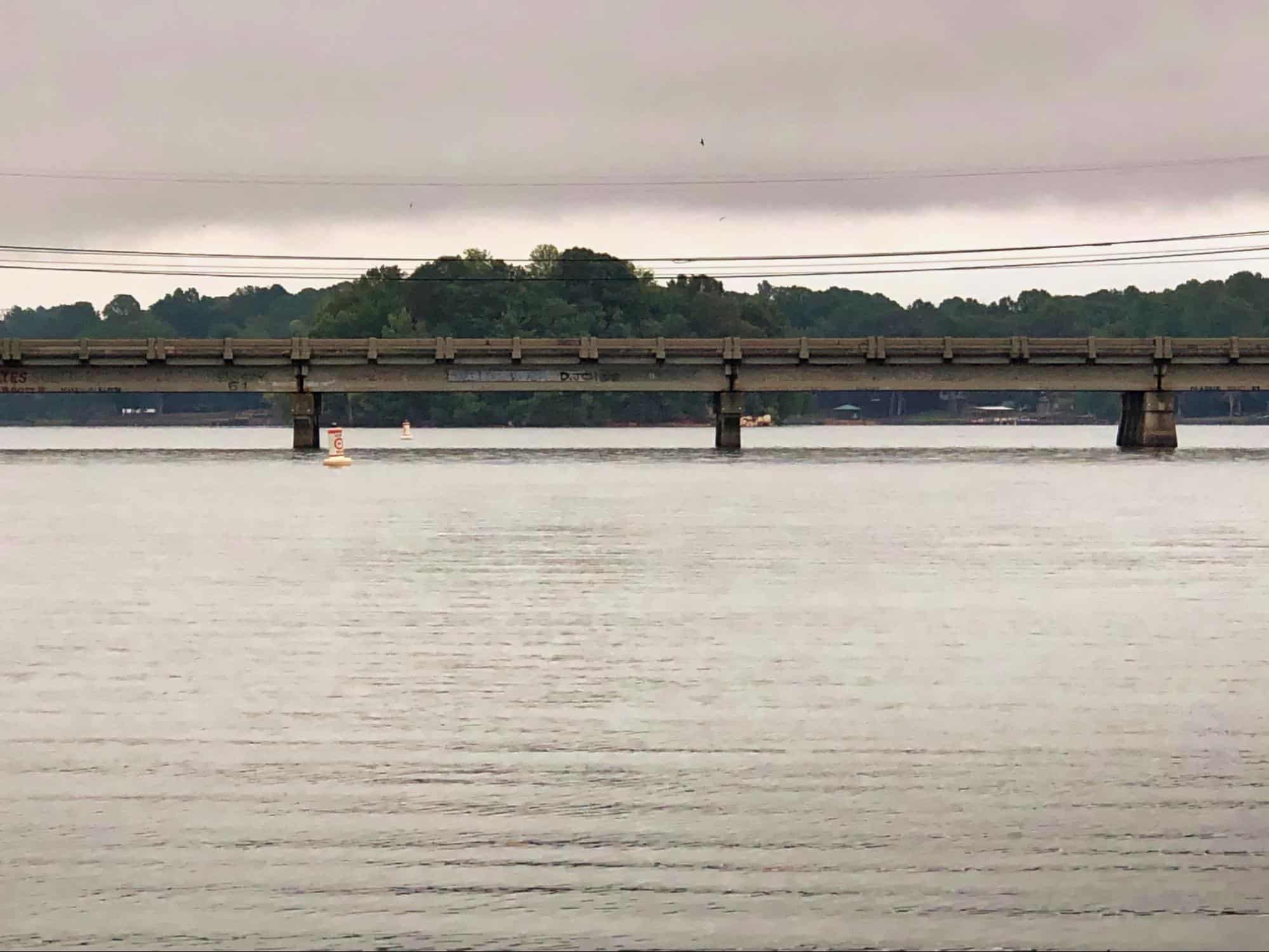 PRO TIP: don't forget about the importance of factoring in wave height when clearances are tight!
Approximate vertical bridge clearances when the lake is at full pond:
Below are some helpful bridge clearance details provided from the Lake Norman Marine Commission.
These are approximate vertical bridge clearances when the lake is at full pond, or 760 feet (ca. 232 m) above sea level. These are listed for reference only, always verify info for yourself to keep your crew and your vessel safe.
1-40 Bridge-Catawba River-Over 10'0"
Highway 70 Bridge-Catawba River-Over 10'0"
Railroad Bridge-Catawba River-Over 10'0"
Railroad Bridge-Buffalo Creek-3'
Buffalo Shoals Rd. Bridge- Catawba River-Over 10'0"
State Rd. 1832- Balls Creek-5'6"
Windermere Island Bridge-Catawba River-Over 10'0"
Molly's Backbone Rd. Bridge-Terrapin Creek-2'
State Park Bridge-Hicks Creek-3'
Perth Rd. Bridge-Rocky Creek-3'
Perth Rd. Bridge-Cornelius Creek-5'3"
Cornelius Rd. Bridge-Cornelius Creek-4'
Highway 150 Bridge- Catawba River-8'5" and 11'1"
Highway 150 Bridge-Mountain Creek-5'9"
Highway 150 Bridge-Reed Creek-(LKN Marina)-5'9"
Mount Pleasant Rd. Bridge-Mountain Creek-5'5"
Railroad Bridge-Mountain Creek-6'3"
Slanting Bridge-Mountain Creek-Over 10'0"
Governors Island Rd. Bridge-East of Burton Creek-7'10"
Williamson Rd. Bridge-Reeds Creek-6'
I-77 Bridge-Reeds Creek-10'3"
**Lake Norman navigation info gathered on Aug 17, 2020 from: https://lnmc.org/navigation/
There's nothing more fun than boating around the lake on a hot summer day or taking an evening cruise at sun down. But with great fun comes great responsibility! Operating a boat requires knowledge of the area, rules, and on Lake Norman you must know your bridge clearances.
We encourage you to bookmark this page as we will keep the listed bridge clearances up to date and add any new information.
What to read next? Read our comprehensive Boat Owner's Handbook!