You will never get top dollar from your home sale and I'm going to share why!
I'm not here to waste your valuable time, but instead I want to be brutally honest about the real estate industry today and how it affects you, the home seller or the person thinking about selling their home.
Watch this short video for a brief explanation:

Yes, Mike, alert me when your next educational video is uploaded.
& send me market reports specific to my neighborhood (OPTIONAL)
You want to know why you won't get top dollar for your home sale?  You can start by pointing the finger directly back at us.
The Problem .
Most Realtors are trained by the their brokerage firms from the very first day on the job on how to find you , "THE SELLER LEAD," but very little on how to market your home once you, THE SELLER LEAD, turns into a listing.
One example of marketing that has little to no impact on selling your home:
Broker's Open House Events.
A Broker's Open House event is designed to showcase one's home for sale to other real estate agents. Can someone please tell me how inviting Realtors to a Broker "wine and cheese social" is going to help sell your home? Having relocated from California, Erin and I have been known to chase down a good bottle of Cabernet but, I can assure you, this type of event is not going to make a buyer magically appear on my passenger seat ready to buy your home. Maybe if the selection of wine was worth the trip I might at least show up to enjoy a glass. Seriously though, if I had a buyer looking for the features your property is offering, I would have already had them at your front door. Remember, any Realtor has access to every listing on the MLS so we have the ability to show any home around Lake Norman regardless of what company has it listed.
I will speak more about open houses and other "pacification marketing" in future videos.
Here's what buyers really want.
The likes of Google,The National Association of Realtors and Digimetrix have told us exactly what buyers want.
Here are the results of case studies completed in 2015.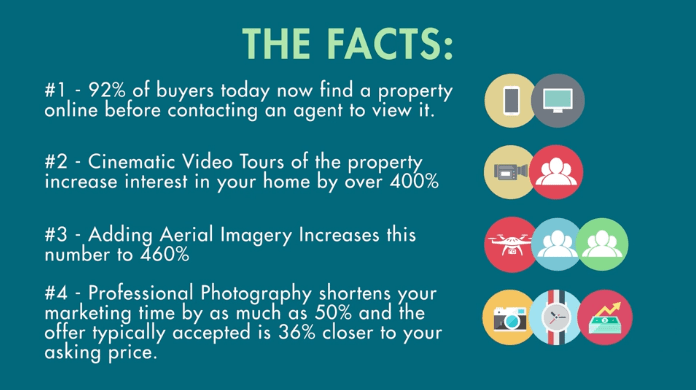 92% of buyers today now find a property online before contacting an agent to view it.
Cinematic Video Tours of the property increase interest in your home by 403%.
Adding Aerial Imagery increases this number to 460%.
Professional Photography shortens your marketing time by as much as 50% and the offer typically accepted is 36% closer to your asking price.
BONUS: Buyers now also want to be able to get a feel for the neighborhood by watching neighborhood videos.
The next fact is almost impossible to believe.
Less than 1% of Realtors hired to sell homes around Lake Norman use all four of these marketing technologies (listed above) to assist in the sale of your home!
Let me repeat that one more time.
Less than 1% of Realtors hired to sell homes around Lake Norman use all four of the marketing tools listed above. Which means…99% of Realtors choose to avoid going through the trouble of giving what the potential buyer actually wants!
It just gets worse.
There is something I need to clarify regarding statistic #2 above, regarding video. 80% of realtors who include a virtual tour of a home are NOT using video at all. They are using what I refer to as "poor virtual tours" which consist of a $39 dollar automated slideshow that sets the home's photographs into motion. The buyer browsing the listing has already viewed the pictures, now they get to see them again with the only difference being…added music! Cinematic video tours, in great contrast, are high production-value videos filmed at the home and edited with precision in order to show the home in the best light possible. There is a difference!
It is time to become educated.
Don't allow your agent to "sell you" on their brokerage propaganda.  Ask them what they spend to market your home and where they spend it.
If you are told:
"We do red balloon Sunday open houses"
"We do broker opens"
"We will run an ad in a house magazine"
"We will do a virtual tour and…"
"Our company has more market share than anyone else"
I would seriously consider running in the opposite direction.
Here is a simple analogy – If you were fishing on Lake Norman would you rather be using the best bait and know you have 92% of the fish right under your boat or chase the remaining 8% around the lake…with red balloons!?
Sorry for getting on my soap box but I am honestly amazed at how little education is taught with respect to marketing homes and yet how much is taught on how to chase leads.
If you have a need to sell your house, call or email me and we can have a conversation.
What you can do now as a homeowner:
Please don't ignore this chance to be the most educated homeowner in your neighborhood, giving you the knowledge you need to avoid losing thousands of dollars when you decide it's your turn to sell your home.
If you want more of these types of videos, subscribe below and I will make sure you get to be first to watch my brutally honest commentary on real estate.  No fluff, just the facts!
Secondly, if you're a Lake Norman area homeowner who wants to stay informed– I am offering real estate market updates specific to your neighborhood.  This is not an automated report, it is something I personally put together and summarize just for you every month.
Yes, Mike, alert me when your next educational video is uploaded.
& send me market reports specific to my neighborhood (OPTIONAL)