A courtyard is an incredible opportunity in home design. The courtyard is an outdoor family space enclosed by the home and private garden walls. Often between the front gate and the front door, this is also where you first welcome guests to your home. The courtyard is more than an outdoor patio. It's only natural to want your courtyard to feel more welcoming in every element of its design. It will welcome you home from a long day in the city and welcome your guests to relax and enjoy themselves while visiting your home. An inviting courtyard can inspire you to take inspiring walks in the evening, gather with loved ones around a fire on the weekend, and become an unforgettable memory for your guests.
Landscaping is a great place to start with your courtyard, but often a truly inviting courtyard comes down to furniture. Why? Because welcome occurs on a human level – with chairs, fire, food, and conversation. What makes a courtyard welcoming? There are ten furniture designs that you can use to make your garden and courtyard more inviting with just a few minutes or hours of setup.
1. Seated Conversation Space
Nothing is more inviting than a circle of comfortable-looking chairs. A conversation space says that you plan to relax in your courtyard and enjoy good company. It indicates that you often sit under the stars with friends and family. Perhaps to share a meal or to celebrate a special occasion. Guests are sure to feel more welcomed in any space that has seating. Especially if that seating is wrapped around so each person seated is facing others in the circle.
You can do this with any type of outdoor furniture. Some people like indoor-outdoor padded furniture. Some prefer cast iron patio furniture or wooden slatted deck chairs. Others set out benches or even logs in a circle in a more rustic style. All you need is a space where people can sit, gather, and talk.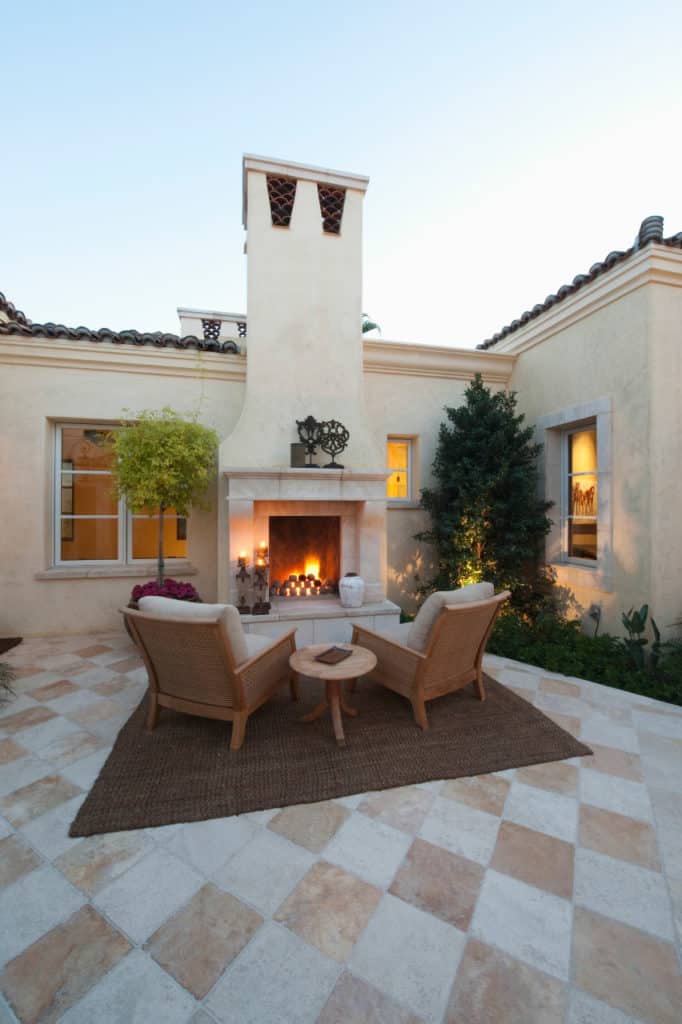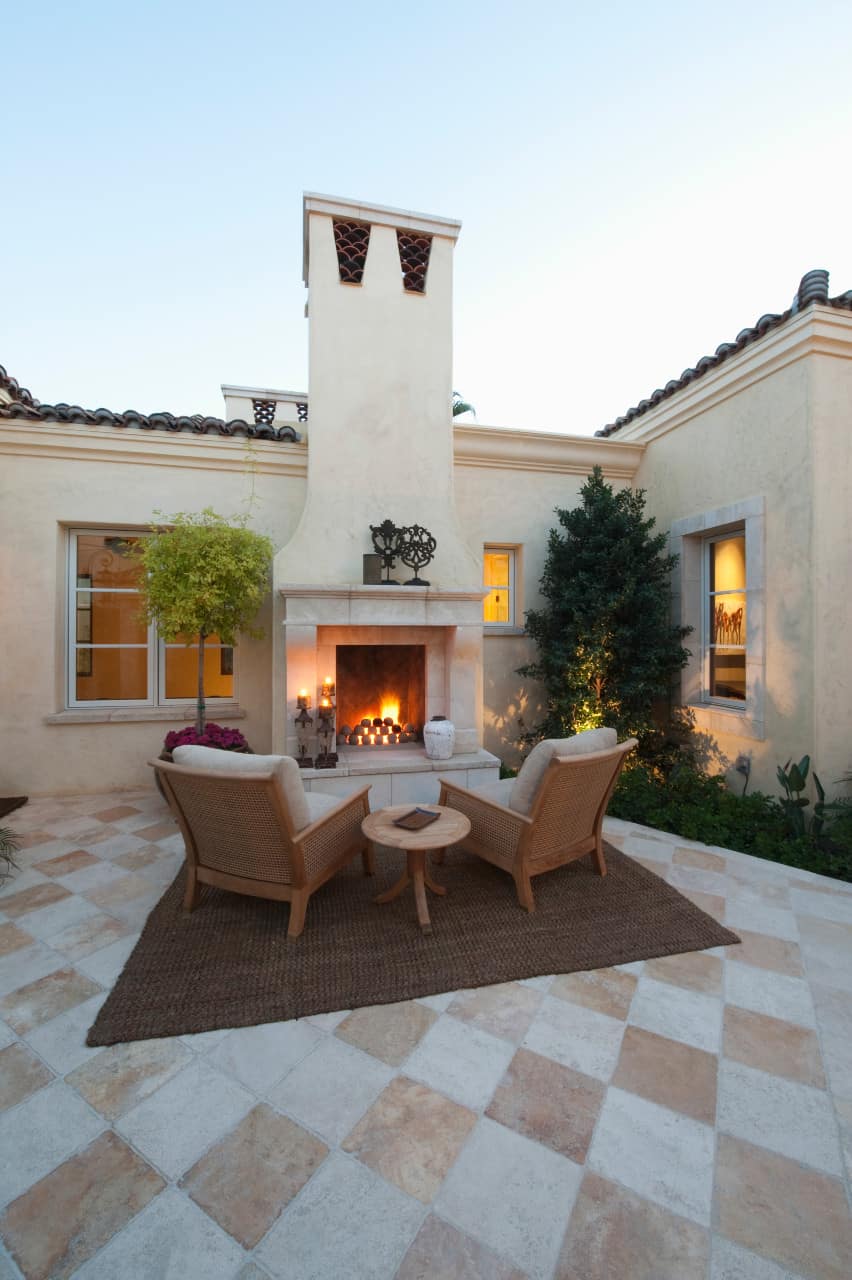 2. Cozy Firepit or Fireplace
There is something about gathering around a fire that is uniquely comforting. It goes back to our ancient past and ancestors gathering around fires thousands of years ago. We still feel closer to those we share a story and a fire with. This makes a firepit the perfect addition to your conversation circle and courtyard design.
There are several types of fire you can choose from. There's the classic campfire pit lined with rocks. Or you can dig and brick a very nice permanent fireplace. These can even be built with extended brick seating that warms with the fire. You can build a fireplace and outdoor chimney in the courtyard. Or you can downsize with a small stand-up metal brazier. You can even get fancy with a fire-table instead.
3. Stone and Gravel Pathways
A courtyard that is all green or lawn may be ignored. But a courtyard with winding garden paths is explored. Pathways invite your family and guests to take a stroll down side paths and around the edges of the courtyard. Each pathway leads somewhere new, to a garden sculpture or a reading nook. Great courtyard design can turn a few hundred square feet into a labyrinth of beautiful arboreal pathways.
For a clear courtyard design, provide stepping stones to each area you design You might create a design in planters and paving stones. For an overgrown-style courtyard, explore hidden and winding gravel paths.
4. Gliders, Rockers, and Swings
Can any front porch design be complete without a porch swing? Gliders, rockers, and swings are a hallmark of a family space where people gather and relax together. A glider on the deck, a swing bench in the courtyard depths; these are the silent details that make our evening contemplations and long conversations complete.
5. Hidden and Arboreal Benches
One of the most delightful ways to design a courtyard is hidden benches. Surprise guests who have gone down the garden path by inviting them to take a seat for a while. Perfect for reading nooks and even napping escapes, hidden benches shrouded in trees, hedges, and even crafted trellises of ivy are perfect for welcoming courtyard design.
6. Ivy-Covered Archways
You don't have to have an overwhelming number of trees to make your courtyard more arboreal. One of the most elegant additions to any courtyard is ivy-covered archways. Trellises, pergolas, and curving arches all look beautiful when shading your pathway one ivy-wound layer at a time. Choose a trumpeting ivy flower for some truly beautiful blooms during the right season.
7. Warm Evening Lights
There is a big difference in how welcoming a courtyard is during the day and at night – unless there isn't. Chase away the darkness and keep your courtyard warm and inviting with warm-hue evening lights.
Seed your courtyard with lanterns on posts, along the path, or nestled into the tree branches. Provide illumination to each social space and private bench. This not only makes it safer and more inviting to navigate at night, it's also reading light for a cricket-filled after hours escape.
8. A Place to Play
Backyards aren't the only place for children's play desging. If your family spends a great deal of time in the courtyard, give the children an elegant place to play. When visiting children see play equipment in the courtyard, they will know that they are welcome, and with cool people who can design a stylish play area. They will want to come back with family or friends. Guests who see a well-designed play area in the courtyard will know that you, as a host, understand certain essential truths – more likely to be both reasonable and friendly.
9. Pergolas and Outdoor Living Spaces
One of the biggest trends in the last three years is using pergolas to create outdoor living spaces. Combine outdoor curtains with a beautiful wooden frame. Then furnish the inside of each square with a conversation circle, an outdoor kitchen, a mediation room, or anything you want. Outdoor living spaces bring the luxury of indoors to your outdoor design.
10. Birdbaths and Meditation Pools
Finally, let's not underestimate the inviting nature of water features. From little birdbaths to big fountains, there's something about a pool of water that most people find comforting. Among the latest trends is to design a mediation pool among squares of planters and water. The still water can be blended beautifully with benches or bridges to make your courtyard more inviting any time of day or night.
Ready to transform the courtyard of your Lake Norman home? We're here to make it happen. Contact us today to get started on your courtyard design with Lake Norman Mike to ensure you enhance your home's presence.