The entire Lake Norman area is a beautiful and exciting place to live, but it's hard to beat being right on the water! With over 520 miles of shoreline and 32,510 acres of surface area there is endless amounts of fun to be had on and off the water.
Lake Norman is not only beautiful but unique too.
Did you know that in the 1990's, scientists found a species of freshwater jellyfish in Lake Norman and no one knows where they came from?
There is also an urban legend of a sea monster named "Normie" living in the depths of the lake. Good luck trying to spot him, though! (Learn more about Normie here.)
If you enjoy beauty, excitement, and a little bit of quirky, then Lake Norman may just be the place for you.
Speaking of quirky…
Check out these five unique & one-of-a-kind homes nestled on Lake Norman that are currently on the market! ( As of April 2016)
1.) 1150 Eaglecrest Drive, Stanley, NC
This first home is located in Stanley, NC in the lakefront community, Cowans Ford Country Club. So what makes this home so unique? Take the whimsical spiral staircase up to the loft area and climb one more set of stairs up to the observatory were you will find stunning 360 degree views of Lake Norman.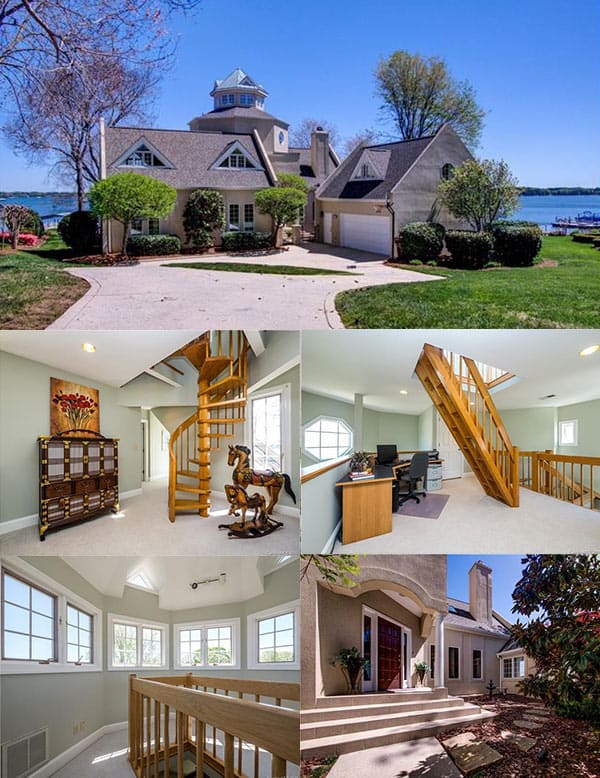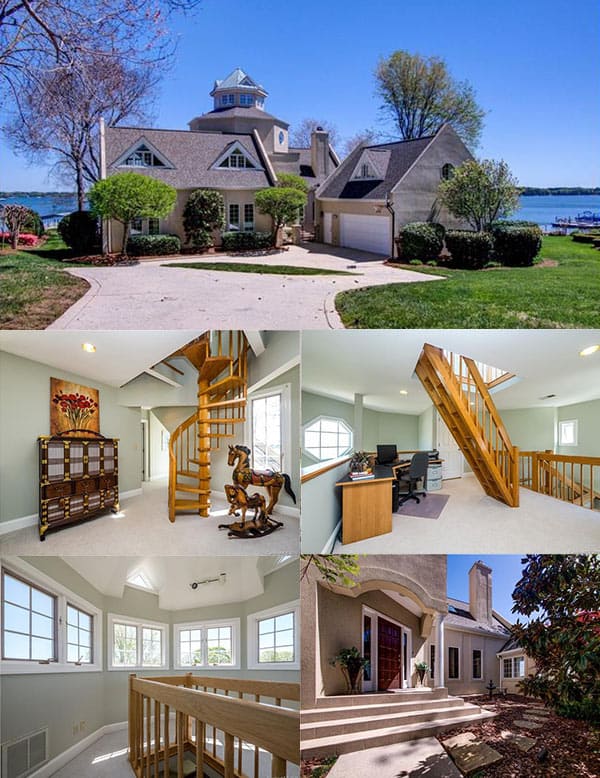 Photo Credit: Carolina MLS and Respective Listing Agency
2.) 180 Eagle Chase Lane, Troutman, NC
The second home is located in Troutman, NC and is listed as one of the most spectacular homes on the lake! This home is unique because it offers spectacular panoramic views through its curved wall of windows of Lake Norman State Park creating the feel that you are on your very own private island. Other rare features in this modern yet elegant home include an elevator, in-home gym and sauna. Thats right.. a sauna! Have your spray bottle ready and get your sweat on with the distinct smell of cedar in your nostrils. View full listing here.
Photo Credit: Carolina MLS and Respective Listing Agency
3.) 16007 North Point Rd, Huntersville, NC
This 3rd home is a Malibu style home located on the shoreline of Lake Norman in Huntersville. The town of Huntersvile doesn't have too many waterfront homes in its vicinity (only 5 for sale currently) so that makes it unique by itself. But as soon as you drive up to this home or boat up to its pier, you'll notice its very unique! While most houses in the area take on a more traditional style, the custom home builder for this home constructed a well built steel frame home with unique angles and an emphasis on the easy-access sunning decks on both the upper and lower levels. Inside you'll notice the walls angled in and the distinct beams protruding into bedrooms. See full listing here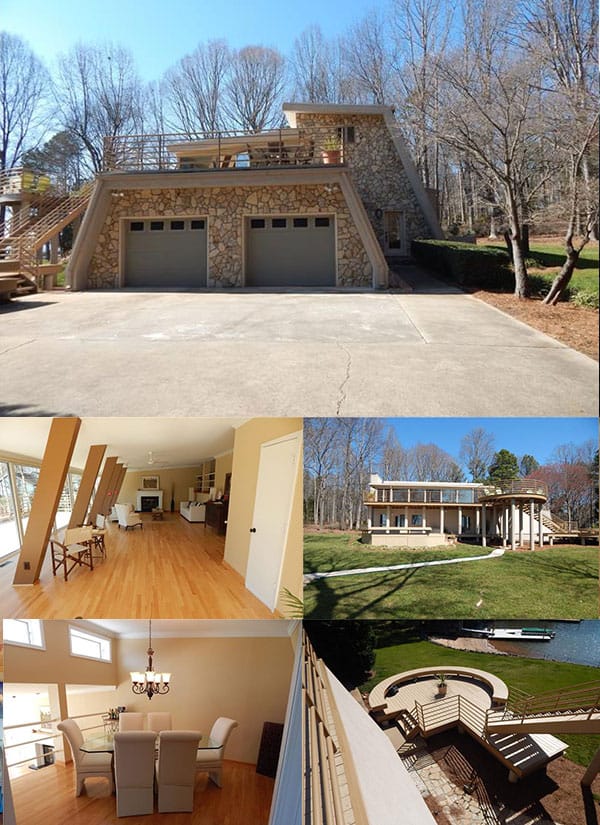 Photo Credit: Carolina MLS and Respective Listing Agency
4.) 20105 Riverchase Dr, Cornelius, NC
This 4th home located on the waterfront in Cornelius, NC features some very unique ceilings. From the beautiful aluminum ceiling panels in the kitchen to the expansive knotty pine ceilings in the dining room/wet bar area this house is loaded with unique character. Other uncommon features in this home include are a pool that can be heated, sauna, hot tub, covered deck and 2 piers. See full listing here.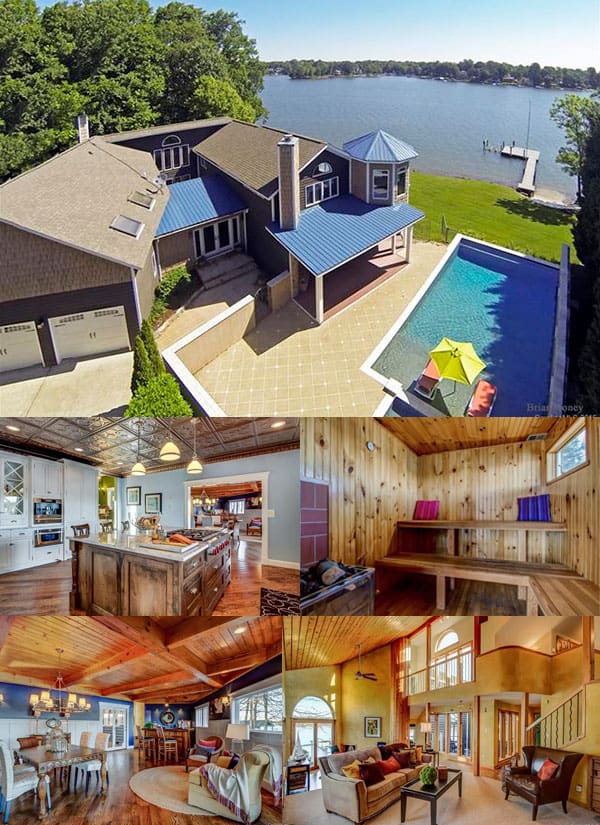 Photo Credit: Carolina MLS and Respective Listing Agency
5.) 3739 Mill Run Terrell NC
Last but not least this 5th home located in Terrell, NC has too many to list you just need to see it for yourself! View it full listing here: 3739 Mill Run Terrell NC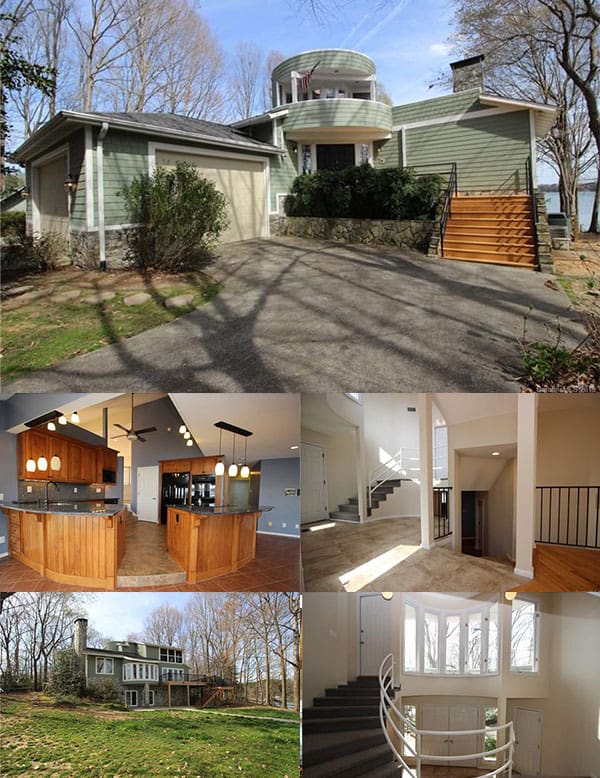 Photo Credit: Carolina MLS and Respective Listing Agency
Feel like this guy?
Remember! This is Lake Norman in North Carolina, NOT Los Angeles. Houses in this area are pretty tame compared to most,  you can still find a few gems and quirky homes if you look hard enough.
We hope you loved seeing these unique Lake Norman homes, make sure you like our Facebook page so you won't miss the next awesome Lake Norman post!.
To see more great homes like these, explore Lake Norman real estate on our webpage: Lake Norman NC Homes for Sale.