Welcome North Carolina home owner! You've landed in just the right spot, below you'll find:
A Complete How-To Guide for Selling Your House "For Sale By Owner" in North Carolina

A List of downloadable NC forms you may need (No Signup Required)

A heartfelt introduction that can help with your decision to sell FSBO.
Introduction
If you've found yourself on this website, you are most likely a home owner in North Carolina who has decided to cut out the middle-man of a Realtor®, save commission money, and take on the project of selling your home "For Sale By Owner". This FSBO how-to guide was created to show you the best practices in selling your own home.  It will guide you step-by-step in order to hopefully get your home sold quickly.
But wait!!
Before you read on and embark on this journey, take a few moments to soul search and ask yourself these 3 questions.
Do I have the mental fortitude to take on a stressful project that will take lots of time and effort and involves one of the biggest investments of my life?
Do I have the computer and technology skills in order to effectively market my property on the internet (where over 95% of people look for homes)?
Am I willing to deal personally with buyers who a.) can be quite critical of your home , b.) need to be screened and qualified for financing, and c.) will negotiate hard for the cheapest price they can get.
If you answered YES to each of these questions, great! Move on to STEP 1 below.
If you answered NO to any of the questions, consider these 4 statistics:
A 2013 National Association of Realtors® study found that the typical sold price of a FSBO home is $184K compared to $230k sold by a licensed agent.
FSBO properties take on average 19 more days to sell than those listed with Realtors®.
A survey revealed that the top challenges for FSBO sellers was the paperwork, getting the price right, and preparing the home for sale.
 It's been estimated that 80% of people who try the FSBO method, end up giving up and listing with a Realtor®. It doesn't hurt to at least have a discussion with a Realtor® before trying FSBO.
If you live in the Lake Norman/Charlotte region, get a free consultation from a Realtor with over 2,000 homes sold and over 25 years experience. Chat with Mike Toste about your situation without any pressure to list with us.
---
And now…the 'For Sale By Owner' How-to Guide…
FSBO Quick Links: Pricing • Preparation • Marketing •  Working With Buyers •  Paperwork • Closing • FORMS NEEDED

1. Pricing Your 'For Sale by Owner' Home
Background
The pricing of your home is the most important part of the entire process. Price too high and buyers won't give your property a second glance; price too low and you'll have it sold in no time while effectively losing thousands of dollars you could have pocketed if the house had been priced correctly.
Remember, it's just basic economics. Your home will only sell for the price a buyer is willing to pay, no higher. When you set the price for your home, it must be based on similar or comparable homes sold (comps) in the your real estate market. Depending on how soon you want it sold, you can price at market value or below market value.
Analysis
To do the research and analysis for pricing, you can use websites like zillow.com and filter results to be similar to your property and to see only sold properties. From there you can compare the similar properties that have sold – take into consideration if yours is a waterfront home for sale, and adjust the price based on your added features or lack thereof. This isn't an exact science and it works best in neighborhoods where owners buy and sell more often, and in homes that are similar in style and size to other nearby homes. If you have a unique home in a unique location (like a custom waterfront home for example), it becomes more difficult to price, but a proper analysis is still the key.
Once you decide on a price it's time to get the home prepared…

2. Preparation of Your Home
Repairs
Fixing all the basics is must! You want to avoid any problems with the home that could prevent a sale or become negotiating points for buyers. This is not the time to consider major renovations or additions. These major projects will more than likely be a net loss for you. Instead meticulously go through the house from the crawl space to the attic and roof, and make sure everything is in working order. If you think there could possibly be issues, it may be a good idea to contact a home inspector for a pre-listing home inspection. But as a FSBO seller you'll want to be very careful not to overspend on repairs. If you need to hire out for repairs, make sure to get written estimates from at least two contractors.
Declutter & Cleaning
De-clutter and deep clean your house so it smells great, and is free and clear when walking through it. You might be used to the loads of furniture in your house, but to a stranger it may feel way overcrowded. Most of the time, homeowners will need to consider removing furniture, containers, trinkets, and items that don't add to the homes appeal.
Spend some time on bringing the curb appeal up. Often times, home buyers will drive by a home and add it to the reject list just by the looks of the outside. Make sure the shrubbery is trimmed, weeds are pulled, new mulch or pine needles are installed, and grass is as green and clean as you can get it.
Deep clean the house, wipe down every surface and make sure all dust bunnies go to dust bunny heaven. Even a slightly dirty house can be a major turnoff for potential buyers.
Staging
When a buyer walks through your house, how will he or she feel? Buying a home is a very emotional process. People rely on gut feelings more often than logic. This is where staging comes in.
There are professional stagers who work every day on homes making them really look great for photos and for in-person showings. For between 100-200 dollars a professional stager can give you a full consultation on how best to position the existing furniture and what accessories can be bought and added to give it the "pop" it needs.
Many For Sale By Owner' home sellers want to save money, so if you opt out of using a professional, pretend that you are having the governor and his family over for dinner. What would you do to make your home look as presentable as possible? Would you go out and maybe buy a few flowers? Maybe you'd hide 'that oversized chair' that you've had just a few years too long. Another trick is to have someone over who doesn't come often and ask them to be HONEST about what they like and what is a bit distracting. (For best results, find someone who can be honest!)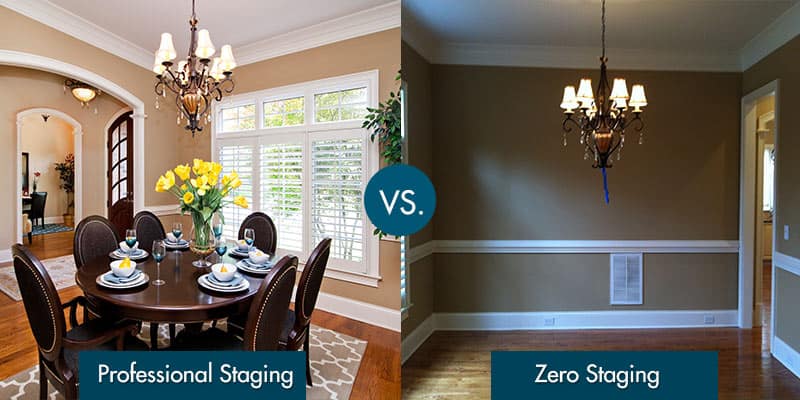 The staging of your home is crucial to make the entire marketing package of your home better, which happens to be what we talk about next.

3. Marketing Your 'For Sale by Owner' Home
Internet
Over 92% of people use the internet to find homes for sale. To see if your marketing is working, pretend you are a house buyer and try finding your own house. If you can't find it easily, than the marketing is not ideal. For example, folks looking for "Lake Norman Real Estate" and "Lake Norman Waterfront Homes For Sale By Owner" won't be able to find a home that's not on the internet. 90% or more of the websites that show up for that term contain homes found on the MLS, which is the Realtor® directory of homes for sale, only available if using a licensed Realtor®. (80% of homes are sold through the local MLS)
Here's a quick exercise: pretend for a minute that you just found out your job is moving you to the city your house is in now. And by chance you are looking for a home with similar price and rooms as the one you are selling. Now visit google.com and start searching! The top three websites that show up are where 75% of people will look. If your home isn't on at least one of those, it's essentially INVISIBLE.
Where to post your home for sale…
Below are 3 free websites that you NEED to list Your FSBO home on.
Zillow (which also goes on Trulia) | link here.
Craigslist.org | link here.
Fizber.com | link here.
If you need some help with how to post to these websites, a simple search for "how to list my home by owner on [INSERT SITE NAME HERE]" on google.com will get you the answers.
Make sure you add all the details about your home correctly. When you add the portion about square footage, in North Carolina, the "living area" or "heated square footage" refers to space that is intended for human occupancy and has these three criteria met:
1. Heated/Cooled by a permanent HVAC unit. (not a plug in type)
2. Finished, with walls, floors, ceilings, all made for interior construction. Ceilings must be at least 7 feet.
3. Directly accessible from other living areas, through a door, heated hallway or stairway.
What's not considered part of the living area square footage: Things like unfinished basements, unfinished attics (with permanent stairs), unfinished bonus rooms and other unfinished rooms.
Decks, balconies, porches, garages and carports. More information about this click here.
Photography
When marketing any home for sale, the very first initial impression of a home for buyers is ALWAYS the photography.
Trust me on this, you do NOT want to breeze over this part of your marketing package.
For best results, a professional photographer is needed for bright, crisp and well angled photos that feature the house well. If you would rather not hire a professional, then take the photos with the best camera available with the widest angle lens available.
Open all the windows, turn on all the lights (even the little lamps), and make the home as bright as possible. If there is a time of day that you get more natural light, take the pictures at that time. Don't take photos when its dark or cloudy.
When taking photos, don't be creative with portrait orientation photos, stick with landscape photos that match more closely to what your eyes see. Get Wide! When taking photos, back up as far back as you can in order to get the widest angle possible. This makes room appear at least as large as they do in person. The closer you zoom in, the smaller the room appears.
The "Big One"
The most important photo is the front exterior of the home. It's vital that this photo is taken excellently. The best times to take this specific photo are early morning or late afternoon. Choose a time when the sun is shining on the front of the home as opposed to having the sun behind the house, causing unwanted shadows.
If you are an advanced photographer, you could think about using a twilight photo to make even more of an impact. However the twilight photo works best on homes that are well lit from the outside and have large windows.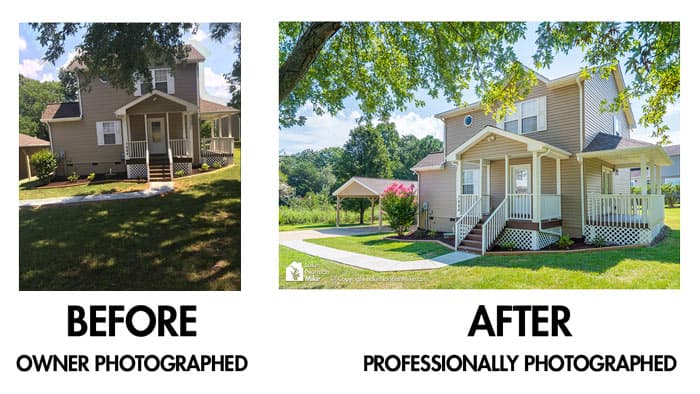 As you can see by these before and after photos, a photo can make a BIG impression on the perception and value of a house. The before photo was taken by the owner in attempts to market the home for sale by owner, the second photo was taken by a professional on the Lake Norman Mike team shortly after to demonstrate the difference.
Signs
Directional signs to your home could help get a few more people to it who are just browsing around neighborhoods. Use the biggest ones your community allows, and make sure you have your phone number on it too!
A professionally branded "for sale" sign can bring up the perceived value of the house much better than a store-bought sign. Think about sneakers that have the Nike brand on it compared to a generic brand, even if they are the same shoe, which is more desirable? It works similarly when selling a home. People expect higher valued homes to be branded better.
Video
Having a professional video tour done of your house is a more advanced technique that could cost hundreds to possibly over $1000 depending on how professional its made. A great video will bring even more awareness and help spread the news about your house. Did you know that videos are much more likely to be shared on social media than photos and text combined!
Here is a sample video that brought lots of attention (to the tune of OVER 2,000 views!) to this Lake Norman waterfront home in Mooresville NC…
Recently, Zillow has implemented a video feature for listings. Posting a video will further improve the visibility of your listings on Zillow. You'll need to download the Zillow app to do this.
Another place you could post your video for even more exposure is on social media which is next in the guide.
Social Media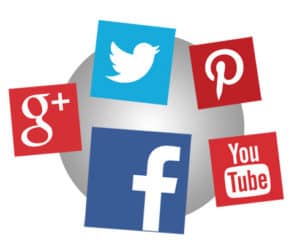 If you use Facebook, that means you have a network of friends that might know just the right person who happens to be looking for a house like yours.
When you have your listing up on a website, where the photos are presented nicely and all the information is accessible, share that page on your profile so that all your friends can at least be aware of it and possibly know just the right person to buy. Statistically, It doesn't happen very often but its good not to leave any stones unturned.
You can also share the listing to different local communities and groups on Facebook. You can find these groups by searching on Facebook for "your city" then click search. When the results appear, click "Groups" to see all city related groups.
If you use other social media platforms like Twitter, Google plus, Linked In, or something else, You should let everyone know you are selling your house. Many of your friends will "like" and even share the post out of courtesy to you.

4. Working With Buyers
To better understand home buyers, you must know what they typically do. Normally a home buyer will look extensively at homes and decide what kind of home they want and the area that they want to live in. Once they are comfortable and ready to purchase, they will get pre qualified for a loan typically, and also hire a real estate agent to help them buy a home. For a home buyer, it doesn't cost anything to use a real estate agent, so it's in their interest to use one.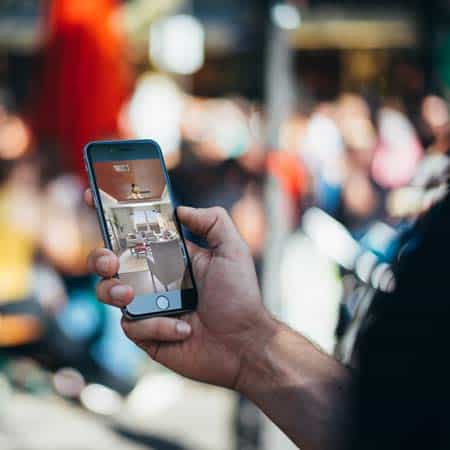 During this process, the house hunter will ask to see homes that meet their criteria and if they find ones on an online search, they will ask if their agent can book a time to go see it.
When you market your For Sale By Owner property the right way, and if it's not overpriced, you will start getting requests to see the home and/or people dropping by to take a closer look.
To better your chance of scoring a buyer, you need to be flexible and open to buyers' schedules. You don't want to keep them waiting for weeks or even days. They'll end up canceling or putting in offers elsewhere.
During this period your home will need to be kept as clean as possible for each and every showing, with a focus on minimizing clutter. Keep that toilet seat down!
Another thing to note is that once you post your listing on these websites, you will begin getting calls from Realtors® attempting to be hired to sell your listing. The best way to keep them from keep calling is to let them know you are already committed to a Realtor® should you decide to list with one.
Most buyers will want to have the home inspected which will more than likely find things that need repaired and taken care of.
If the market allows and a little luck comes in, you will get an offer.
Here's where things can get dicey.
Be aware that during this process you'll need to negotiate with :
– The buyer who wants the best deal possible
– The buyer's agent who represents the best interest of the buyer.
– The buyer's attorney (If the buyer has no agent)
– The home inspection companies which work for the buyer and will almost always find some problems with the house
– The appraiser if there is a question of value.
Note on Negotiations: Just like trying to represent yourself in court, it's always best to be represented by a third party whose sole purpose is your best interest. This is the reason why over 90% over home sellers choose to use a Realtor® as opposed to going FSBO.

5. Contracts, Paperwork, Escrow & Due Diligence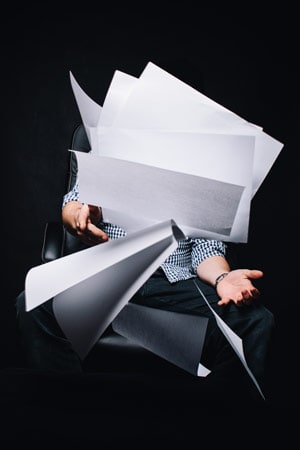 Once you accept an offer, the buyer's agent or lawyer will put together the contract possibly with contingencies and other terms and conditions that may not be in your best interest.
Note: At this point in the transaction, once an offer is accepted, there is still a possibility it never makes it to closing. Put another way, many times an issue will arise that will cause the deal to fall through.
From here an escrow needs to be opened where a deposit will be held after providing instructions. This can be done by the buyer, you the seller, the buyer's agent, but will more than likely be done by you the seller if there is no agent involved.
The signed contract will allow the buyer to inspect the property thoroughly. The buyer's will normally use inspection companies that will go through the entire house from top to bottom looking for anything needing repairs or replaced—and unless your house is brand new, they will find things, trust me! If there are major repairs, you'll need to have those fixed and other findings may cause the buyer to want to renegotiate the price or cancel the sale altogether.
Inspections typically completed are:
Septic  – Is it clogged? Does the size match the amount of rooms?
Well Water Test – Is it free and clear of bacteria, heavy metals, and other contaminants?
Termite Inspection
Full Home Inspection
Radon Inspection
Land Survey
Remember, any and all repairs are negotiable but issues with the property are normally taken care of by the seller (that would be you!).
Important Note on Getting Sued:
It is during this period that if a deal goes sour, a lawsuit may be employed by either the buyer, the buyers agent, or by you, the seller. By using a license real estate agent, you'll be much safer, as they are trained to minimize any possible litigation.
At this point, the buyer must also be able to get financing for their home, which often times is contingent on the house appraising for the value of the price they are offering on your home.

6. Closing the Deal
If everything is taken care of during the entire process, the closing should occur about 30-45 days after the sales agreement contract is signed by both parties. A meeting at the closing attorneys office to sign the deed and closing statement is done the day of closing. Both Buyer and Seller will usually be present for this meeting. Let's hope things went well during negotiations!

North Carolina Forms FSBO Home Sellers May Need:
(Disclaimer: LakeNormanMike.com is not responsible for the accuracy of the forms linked below. Always consult a legal professional before using any form when buying or selling real estate.)
NC Offer to Purchase & Contract – Form 2T
https://www.haws.org/documents/form_2t.pdf
Q & A's on Offer and Acceptance in NC: http://www.ncrec.gov/Brochures/Print/OfferandAcceptance.pdf
NC Mineral and Oil and Gas Rights Disclosure https://www.ncrec.gov/Forms/Consumer/rec425.pdf
State of North Carolina Residential Property and Owner's Association Disclosure Statement http://www.ncrec.gov/Forms/Consumer/rec422.pdf
Lead Based Paint Disclosure (Req'd for homes built prior to 1978) https://www.epa.gov/sites/production/files/documents/selr_eng.pdf
---
This guide was created from scratch with experiential real estate expertise and with some additional guidance from these sources:
http://www.ncproplaw.com/Closing_Services/For_Sale_By_Owner/for_sale_by_owner.html
http://www.raleighrealtyhomes.com/fsbo.php
https://www.forsalebyowner.com/sell-my-house/preparing/prepare-sell-home-fsbo-5-stages