What's the Home Alone House Mortgage?
You may have seen a few of these posts on your Facebook timeline in recent weeks:
"You know you're old when you watch 'Home Alone' and wonder how much their mortgage is…"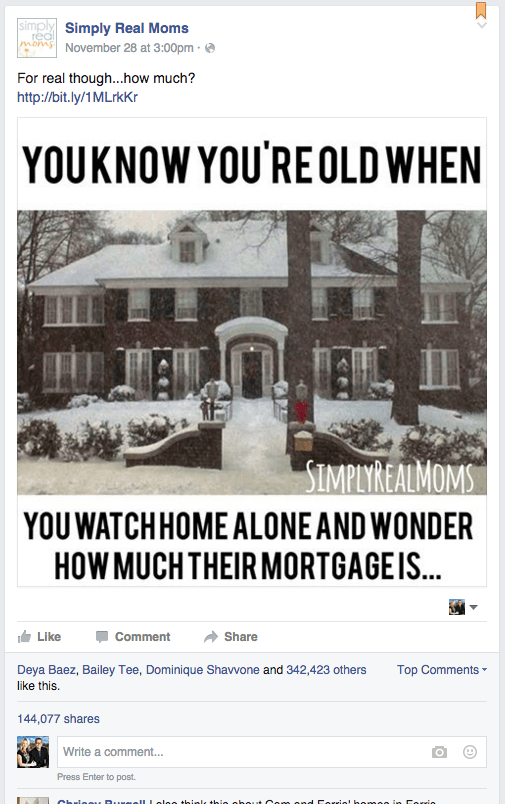 Good Question.
As of Dec 8 this post has over 144,000 shares and counting. It sure struck a cord!
Well good thing we have the power of the internet to give us answers to our curious questions.
Trulia did a blogpost on this recently and here were the findings…
The Home Alone house was last listed for 2.4 Million but actually sold for DRUMROLL PLEASE… $1.585 Million in March of 2012.
So let's do the math.  If the person who bought the home paid a 20% downpayment of $317,000, leaving $1,268,000 the mortgage payment, add in the property tax for that county at 1.8%, you will be left with a…
mortgage payment each month of $8,431.13!
The address of home alone house is 671 Lincoln Ave, Winnetka, IL 60093 and you can see the Zillow listing page with photos for the property here. For some excellent trivia on the Home Alone movie, check out the 'Home Alone' IMDB page.
See below for the cool infographic done by Trulia that shows the value of other iconic holiday classic movie homes including Bad Santa, A Christmas Story, Miracle on 34th Street, and Elf.

Source for inforgraphic: trulia.