Lake Norman in North Carolina is a beautiful place to live with miles of wrinkled coastline perfect for a lakeside community with plenty of space for every estate. With rippling fingers of land out into the water and a family dock along every curve, you're sure to find an aquatic paradise surrounded by the lush green trees of NC's thriving ecosystem.
There are sprawling estates, cozy cottages, hand-built log lodges, and empty tracts ready for a new home construction. If you're looking to buy a home on the shores of Lake Norman, there are some truly beautiful options. For those thinking ahead on your home buying journey, you may be wondering when the best time is to buy a home on Lake Norman.
To choose the perfect Lake Norman home, you'll want to consider season, the real estate market, and even the water level of the lake.
The Real Estate Seasonal Cycle
The first thing you want to understand is the natural seasonality of real estate. The current calendar season has a big impact on the activity and inventory of every home market, including Lake Norman.
Summer Hot Season: More Buyers, More Sellers
The summer is the hot season, alive with both buyers and sellers on the market. For a home buyer, this means more homes to choose from, but also more competition from other buyers. The summer is a season for enthusiastic bidding wars but also for bidders who flake at the last minute. It can be tough to get through to sellers flooded by bids, and a reasonable price might not be on the table for the best properties during this time on the housing market.
Winter Serious Season: Fewer Players, More Intent
During the winter months, the housing market cools down with fewer buyers and sellers in the mix. However, this is a great time to find sellers who are ready to get down to business. Winter sellers want to see their properties move. With fewer prospective buyers, they are more receptive to bids and you'll have more time for negotiations. While there will be fewer homes to choose from, you'll have greater access to those available without bidding wars getting in the way from the summer rush of buyers.
Spring and Autumn Buying in Lake Norman
The transition seasons also have value. Early Spring is when more homes start to appear on the market as well as marketing from mortgage lenders and private mortgage insurance companies but before the summer buyer rush. Autumn is when homes still on the market have sellers motivated to close before winter or mortgage rate changes.
4 Mild But Distinct Seasons
Lake Norman and the Charlotte, NC region experiences four distinct yet mild seasons. That means the winter is a little bit icy, just enough cause the trees to drop their leaves in the autumn and bloom with enthusiasm in the spring. How does this affect your home buying plans? It depends on the weather you prefer when touring homes.
If you would rather avoid icy roads, then avoid the deepest months of winter to tour lakeside homes. If you don't care for high temperatures, consider a Spring or Autumn purchase when the weather is just right.
Shopping for Seasonal Water Views
Then there's the matter of seasonal views. What this means on the waterfront, usually, is that you can only see the lake from your house in the winter when the trees drop their leaves. Lake Norman has a lush tree coverage, which means much of the year you may see beautiful deciduous trees along the lakeside. Then, for 3-4 months out of the year when the leaves drop, you'll be able to see the waterside and perhaps clear across the lake. Dependent on the views and the time of year you sell, you can have price cuts taken on the purchase price.
The Season for Your Water Views
If you are shopping for a home with seasonal water views, be aware of the seasons you will see those views – and what the view is. Usually, the season is winter and the view depends on tree foliage. Be sure to pick the ideal time that will assist the sale.
Beautiful the Rest of the Year
Make sure that you find those deciduous waterline trees to be beautiful all year round and you won't have to worry about a bad time to sell. You can get a beautiful seasonal view that changes month to month. Just be certain you love the all-year view.
Your Boat Your Pier, and the Water Level
Now let's talk water level and boating. Many, many people buying property on Lake Norman have a boat or plans to buy one to go along with their lakeside property. First, if this is your goal, look for property that already has a pier. There are very strict building codes on Lake Norman, owned by Duke Energy along with the dam that controls the water level. If you don't already have a pier, you may not be able to build one. If you don't have a boathouse, you cannot build one. Only existing boathouses are grandfathered in.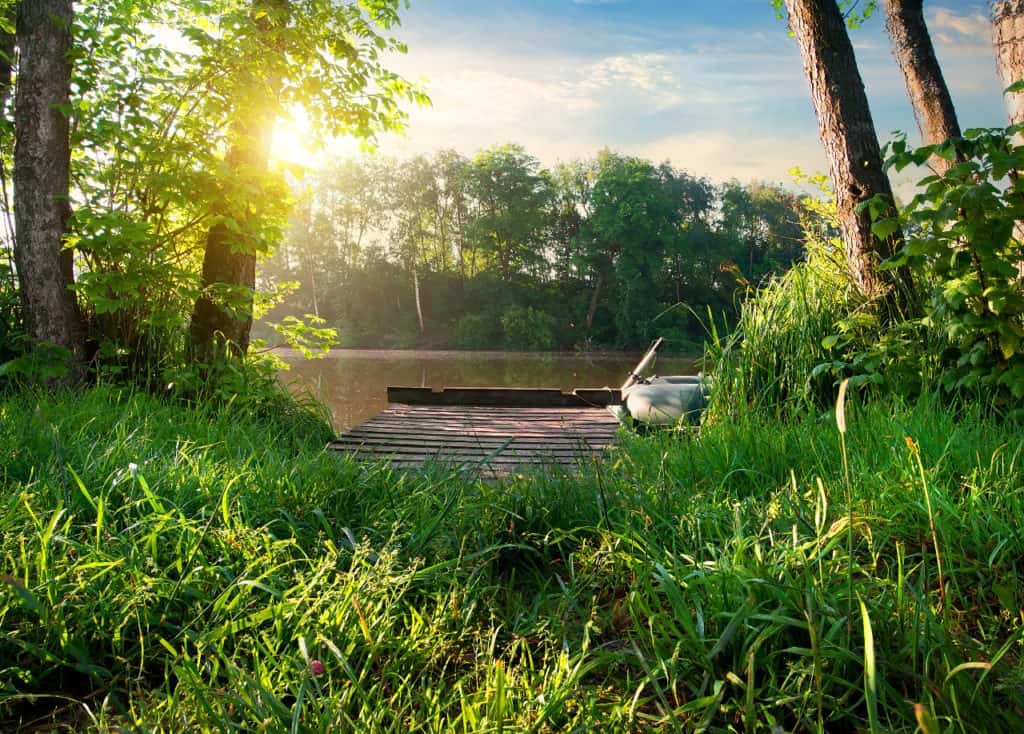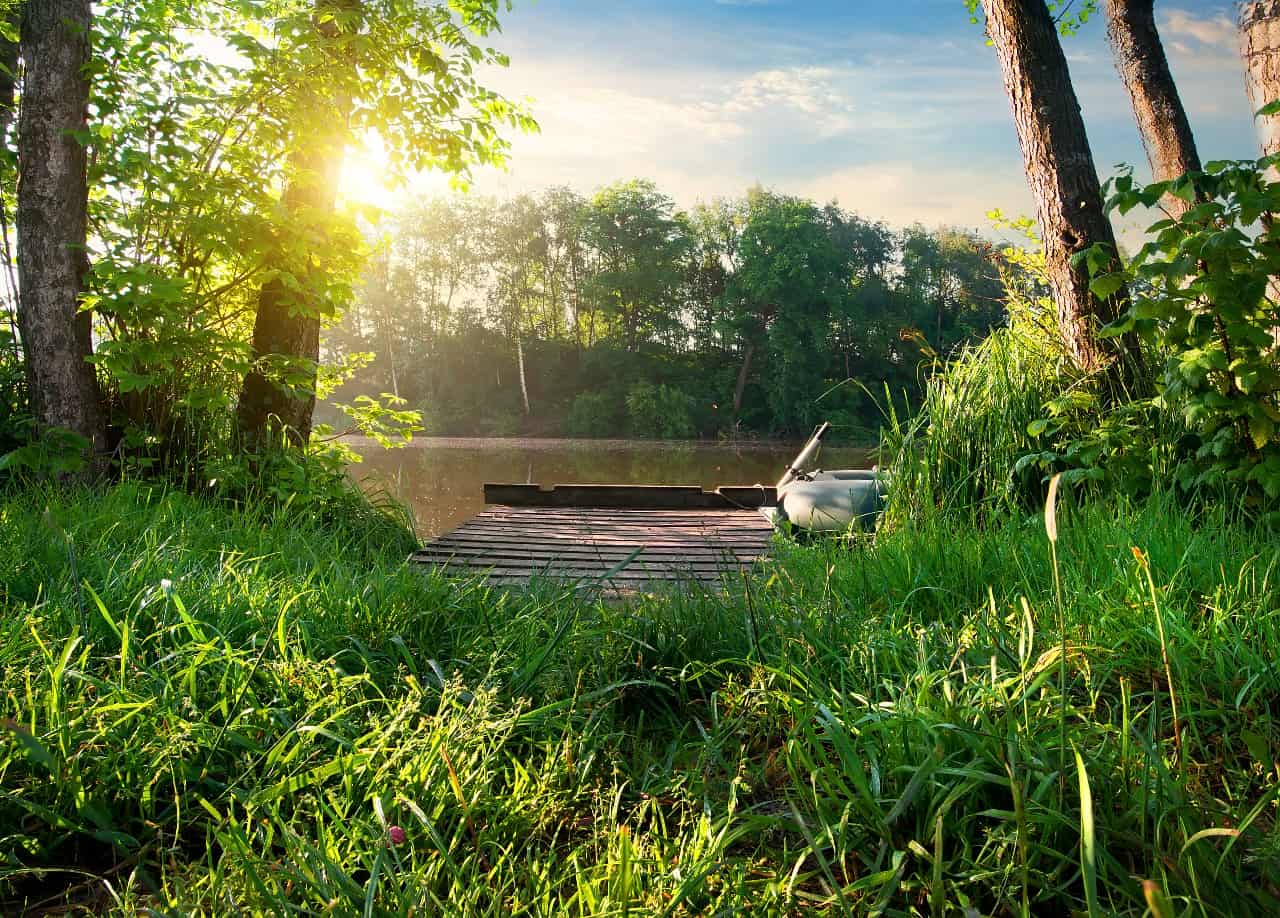 View the Home at Low Water for Minimum Depth
The water level can change by up to 8 feet every year as Duke Energy manages the dam. This means you actually want to buy a home when the water level is low – giving you a chance to measure the shallowest possible depth. This will let you know if your boat is going to be "beached" for part of the year if the water drops around your pier.
The Right Time to Buy for You
We've gone over the right times to buy property on Norman Lake, but what about the right time for you to buy? This depends on your current circumstances and moving plans. Don't pick the worst time for you just because the housing market says it's a good time. How do you know when it's the right time to buy?
Your Finances are In the Right Place
First and perhaps most obviously, your finances need to be in the right place. Homes on Lake Norman average 1-3 million. Be aware that Lake Norman houses span 4 counties, which means 4 different property tax ratings ranging from 0.5275 per $100 assessed value in Iredell County to 1.1732 /$100 in Davidson. Know your potential closing costs, credit score, monthly mortgage payments, mortgage interest rates , personal finance, buying process, closing process and have a margin ready for any initial move-in repairs or renovations.
You are Ready to Move In or Get Renovating
Your timeline should also be ready to take action. Are you ready to start moving and/or renovating the house after the purchase? It's important to move quickly on a good house, but also to avoid too many months of vacancy while your schedule shakes out. Line up your moving plans and renovations as soon as you are ready to bid on a house.
The Right House Arrives on the Market
Finally, simply keep an eye on the market. There's no telling when your dream house on Lake Norman will enter the market. If it has just the right aesthetic, number of bedrooms, and pier design for your dream house, then strike while the iron is hot.
The Best Time to Buy Property on Lake Norman
When is the best time to buy property on Lake Norman? That depends on your goals and your timeline. Now you have all the information you need to make an informed decision – whether you'd rather dive into the summer real estate peak or wait it out for the slower yet more focused cold-weather real estate season.
Ready to start the search for your perfect Lake Norman home? Contact us today. Lake Norman Mike offers detailed local knowledge of every neighborhood and county, plus can help in our amazing negotiating power. We'll help you find your dream house and make sure you're ready for the unique pier regulations and property taxes for homes on every shore of Lake Norman.